Product Description
Description:
The Hoffmann MS40SF Double Miter Saw is equipped with two sawing and routing stations, mounted at a fixed 90 degree angle to each other. Each station consists of a saw blade to cut the material, and a routing head to rout either one or two dovetail keyways per miter.
Solid hard and softwood as well as MDF, MDO, particleboard, composite material and PVC shutter profiles can be cut to size and routed for Hoffmann Dovetail Keys in one cycle.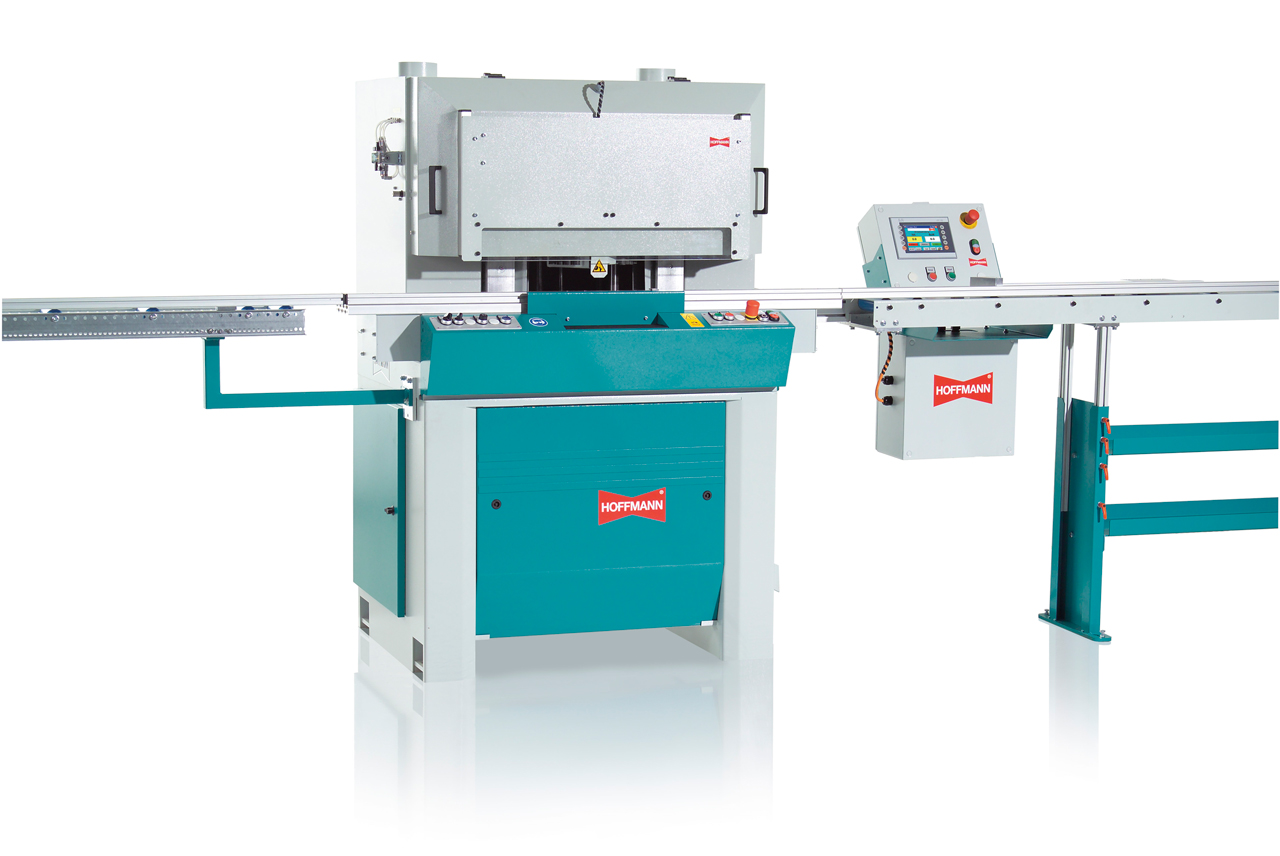 MS40SF with optional ELA-2 length stop system
Different routing heights can be set for each position to allow the processing of profiled moulding or material joined with a compound miter. The key locations can be adjusted by the operator from 1/4" - 3 1/8" = 6-80mm, measured from the tip of the mitered end. These adjustments are displayed on calibrated "SIKO" counters, assuring perfect repeatability.
MS40SF - keyway position adjustment detail
The Hoffmann MS40SF double miter saw is equipped with a 7 3/4" wide and 63" long aluminum table on the right side of the machine.
Moving the length stop to the desired location and locking it in place sets the work-piece length. The length measurement is shown directly on the stop assembly with a digital display, the accuracy is .001" = .01mm. The operator can change the display from fractional inches to decimal inches or decimal millimeters.
An infeed material support table is supplied for the left side of the machine; the length is 63" = 160cm.
Operation:
The material (raw stock, finished moulding, shutter profiles, etc.) is being placed on the left material support table.

The operator actuates the foot switch to secure the work-piece with eight pneumatic clamps. For operator safety, at this stage the clamps extend only with low pressure to secure the material.

Once the material is secured, the operator removes his hands from the material and presses the START button.

A metal safety shield is pneumatically lowered (again with low pressure) across the front of the machine, covering both saw blades and all pneumatic hold-down clamps.

Once the shield has reached its lowered position, the pressure on the shield and on the hold-down clamps is increased to 90 psi and the saw heads begin their downward travel.

Once the material is cut, the saws return to their upper home position and both tables slide open.
Routing heads move up to rout the first key location, then down, over and up again to rout the second location.
The tables move back to the center of the machine, the safety shield is raised and the pneumatic clamps release the material.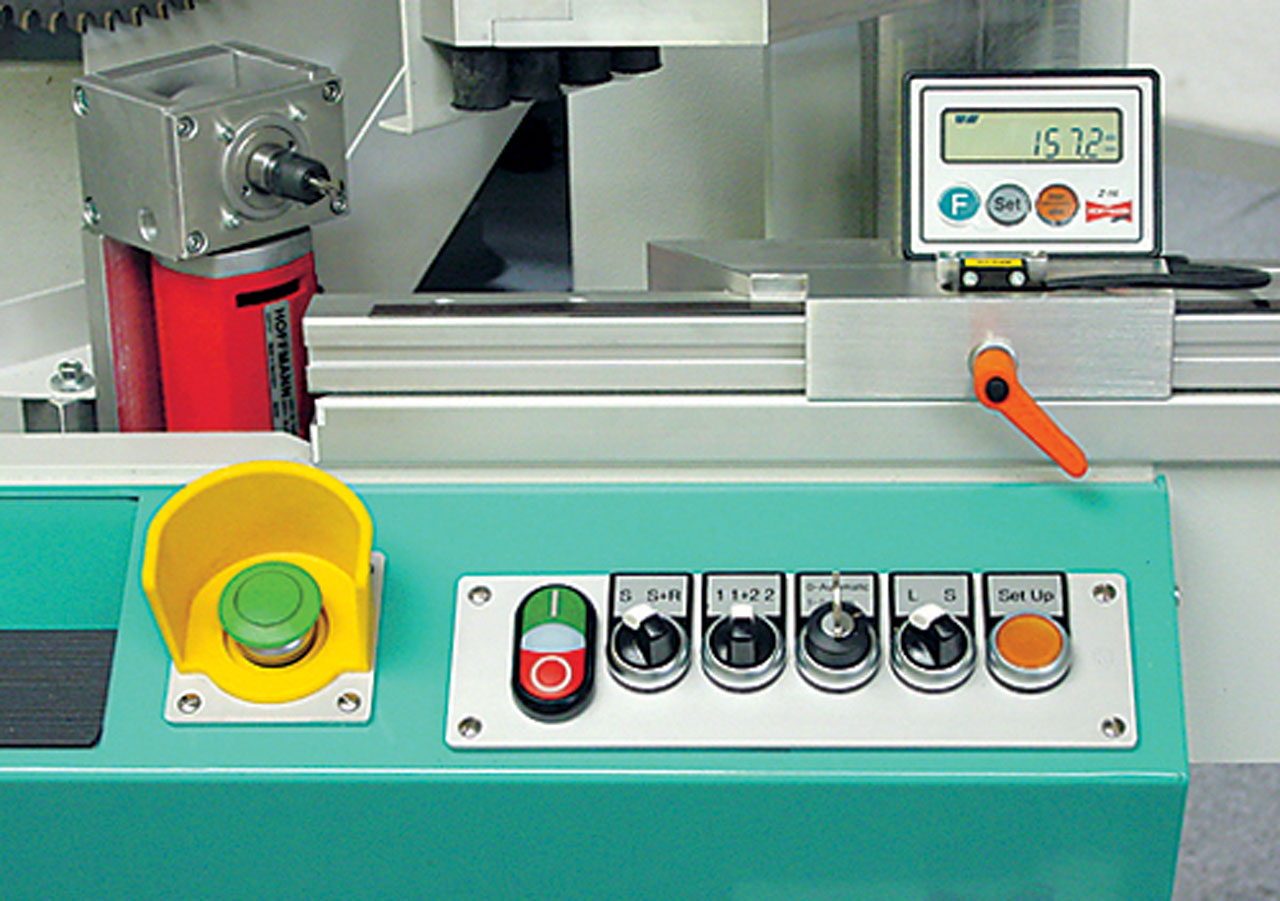 MS40SF operator console with digital length stop and raised router motor

Applications:
Solid wood, MDF as well as plastics and composite profiles can be processed with speed and accuracy.
Typical applications include window and door components made of wood, PVA or aluminum, decorative trim and casing profiles, architectural millwork, applied moulding frames for wall paneling and doors, shutter frames, store fixtures, shelves, wood components for the furniture industry, plastics and aluminum parts for the RV industry, picture and mirror frames, etc.
Non-ferrous metal, e.g. aluminum profiles, can be cut with appropriate saw blades (with dovetail routing sequence disabled by operator)
Options:
Hoffmann MS40SF double miter saws are built to order we work closely with our clients to determine which modifications or options are required to meet customer's production needs.
Available options include:
High-frequency router motors for extended service life.

Longer cutting lengths for manual Stop System

Automatic ELA-2 Length Stop System for right hand side

Automatic In-feed Pusher System instead of out-feed Stop System

Other saw models available for sawing operations only (Hoffmann MS 35 and Hoffmann MS 40) and models with automatic cutting length and keyway position adjustments (Hoffmann MS40SF-NC)
Technical Specifications:
Power 230 Volts, 3 P, 25 Amp
Air Supply 90 psi – 3 cfm
Saw heads 2 x 2 1/2 HP, 3,470 rpm
Saw blades 400mm diameter, carbide tipped
Router heads 2 x 500 watt router motors
Installed router bits Hoffmann W-2 solid carbide
Available router bits Hoffmann W-1, W-2, W-3
Cutting capacity 4" width, 3.5" thickness
Cutting angle fixed at 45°
Minimum length 5"
Maximum length 96", longer lengths optional
Operation front panel safety controls
Controls electronic operation with PLC
Dust collection 2 x ports, 120mm diameter
Standard Equipment:
Hoffmann MS40-SF, ready for operation, including infeed support table, right hand side manually adjusted length stop with digital display, W-2 solid carbide router bits installed, air filter-regulator-lubricator assembly installed, separate flow control valves for saw blade and router head feed rate, emergency-stop-switch, manual and toolkit.
Custom Field
Product Reviews