FAQ
If you have a question you would like to see answered and listed here, please contact us via email. Be sure to check back often as we update this list periodically.
What are the most common and useful accessories ordered for the machines?
While applications vary from shop to shop, the following five items are our customer's favorites:
Table Extensions – for our MU-3 series bench-top machines the table extension are a great upgrade to make working on the machines with longer material more comfortable.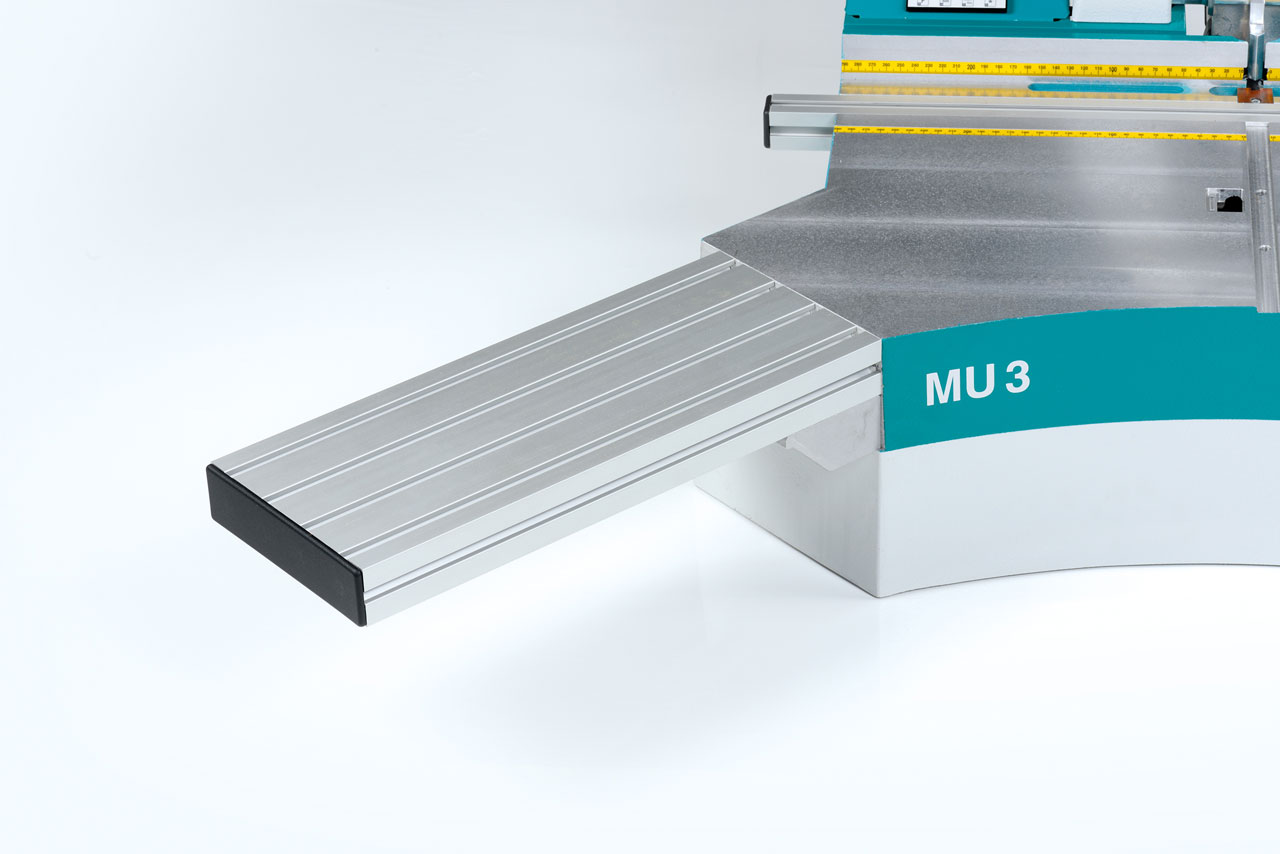 Dovetail Key Sample Cases – available in sizes W-1, W-2 and W-3 these samples cases contain approx. 20 Keys of each length, enough for some test joints and a couple of completed frames. The sample cases are intended to give the user a hands-on overview of our range of Dovetail Keys. Often times, having these samples on hand helps find more uses for the joining system.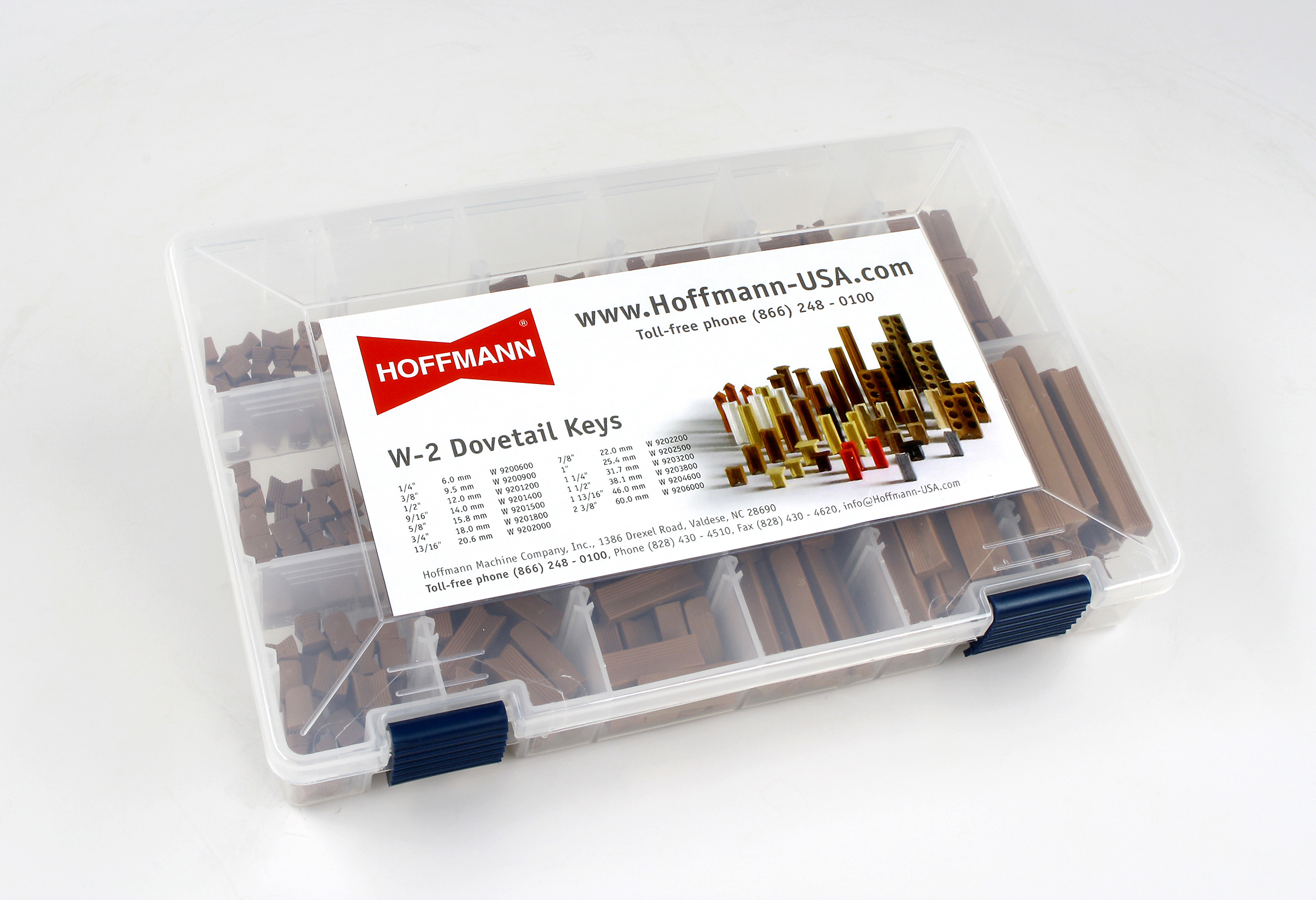 SYNCHRO adjustable fence - this adjustable fixture allows the processing of miter joints other than 45 degrees, very helpful for the custom shop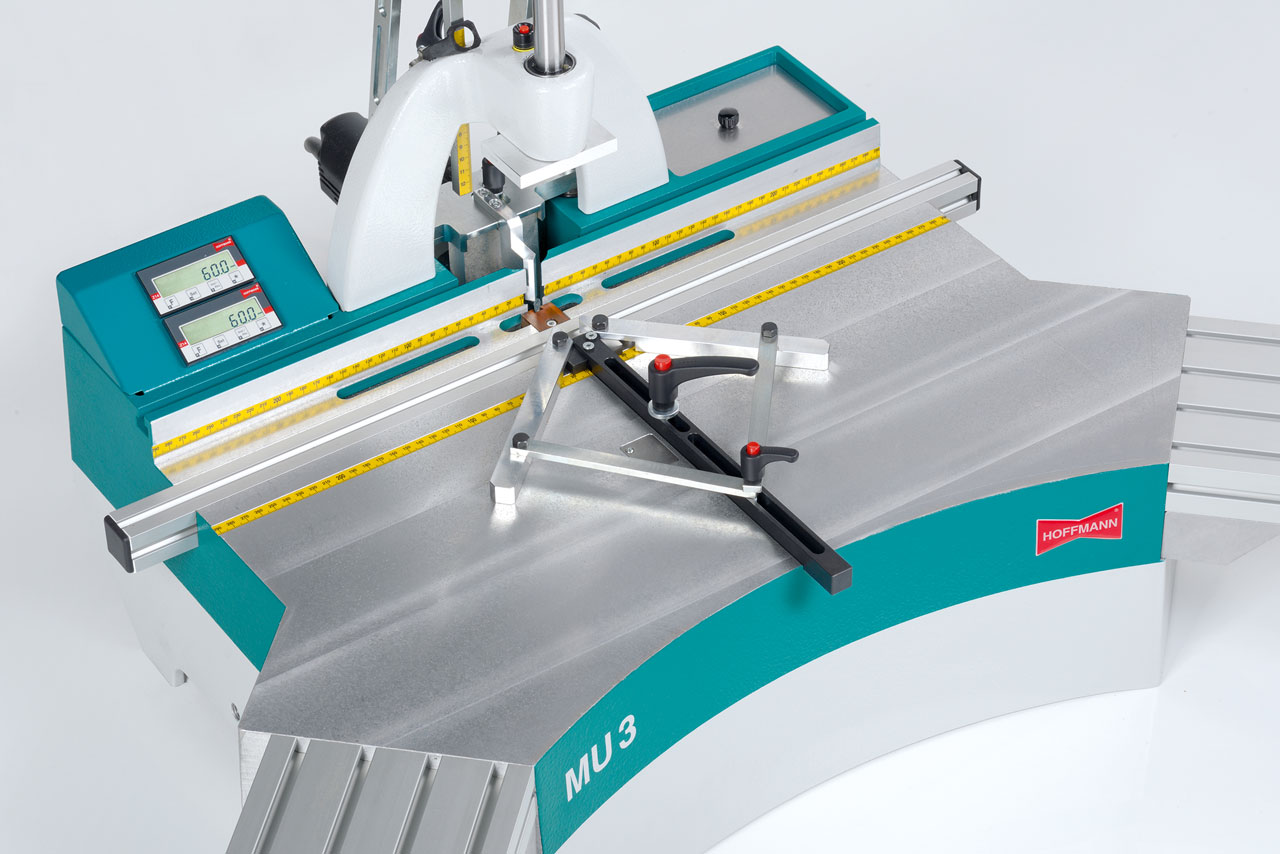 Inside Corner Fences - come as a set for left and right hand side, allow efficient processing of 45 degree miter joints with two Dovetail Keys per joint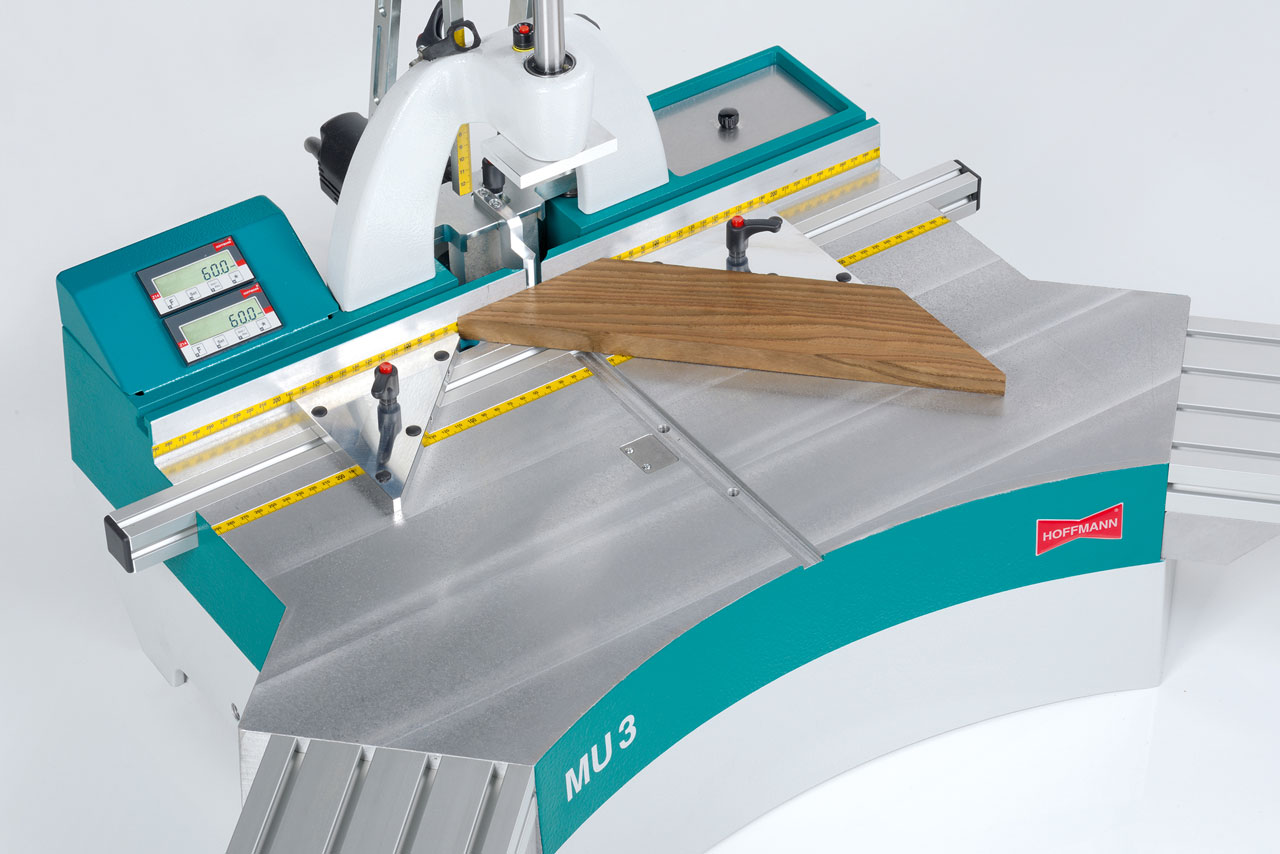 Digital Multi Gauge – while all machines are shipped with fixed set-up gauge steps machined into the square stops, the digital set-up gauge allows for much finer control of the bit setting.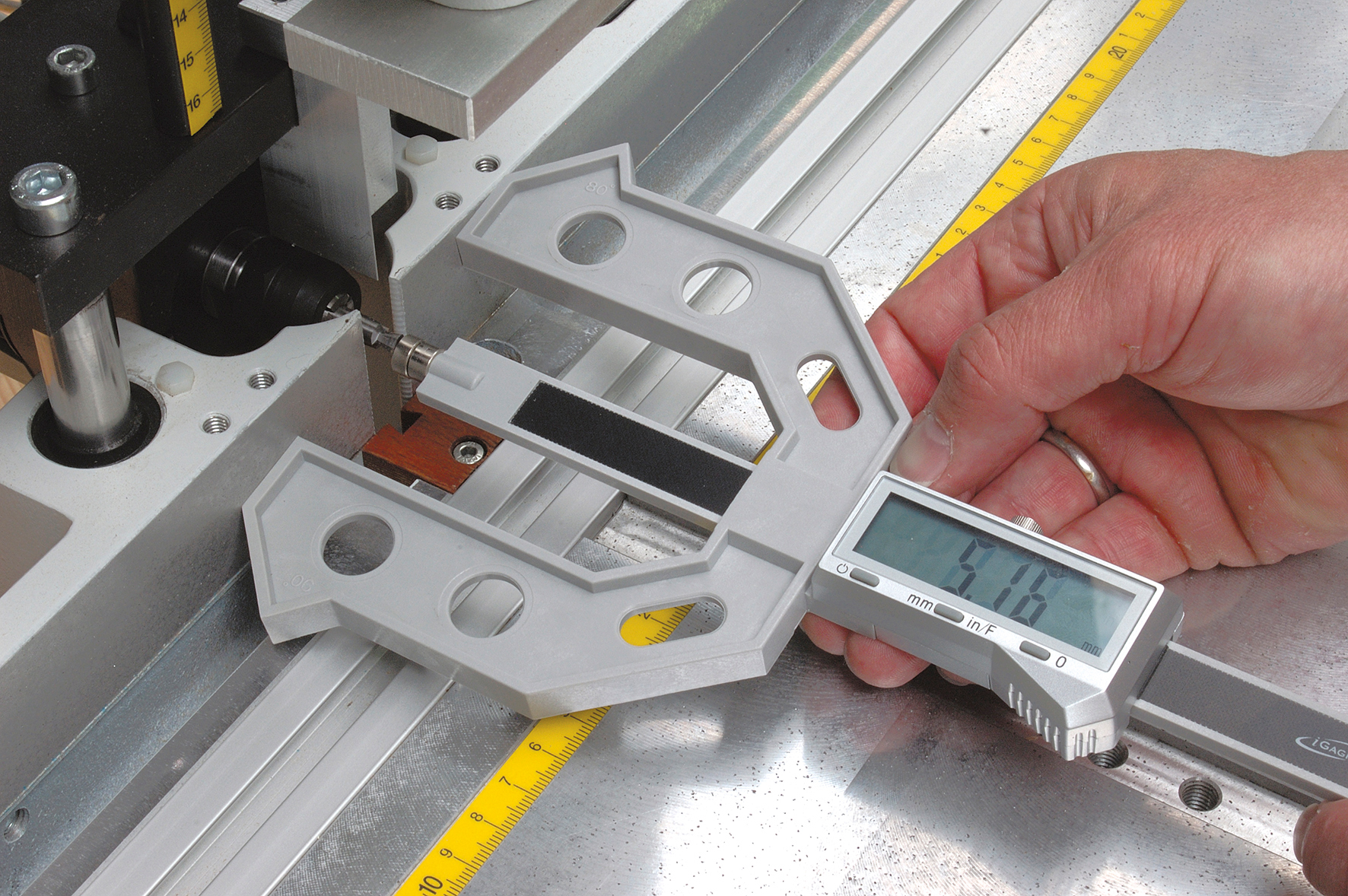 Are the router bits used "standard" dovetail bits?
With so many different sizes and cutting angle variations, there really are no "standard" dovetail bits available. Hoffmann dovetail bits are made to exact specifications and very close tolerances, assuring a perfect fit for the corresponding keys. Using bits that are even slightly out of spec. will result in unsatisfactory results at best, and failed joints at worst. For these reasons, we strongly advise against using other router bits in our machines, which could result in poor performance and also voids the warranty.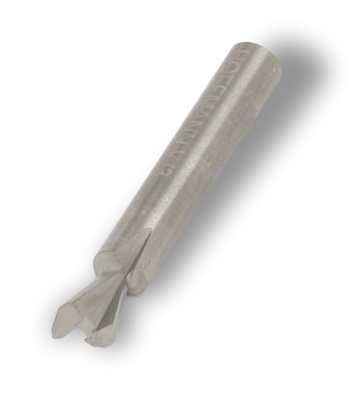 Can the router bits be re-sharpened?
We do not recommend re-sharpening since even slight changes in diameter or cutting angle could cause improper fit of the dovetail keys, which in turn is usually a lot more expensive than simply replacing the bit.
How long do the bits last and what kind of material are they made of?
10,000 and often more cuts per bit, based on our customers' experience. The useable life of the bit varies of course, depending on the material to be routed, the feed rate and the length of cut.
The W-0, W-1, W-2 and W-3 bits are made of solid tungsten carbide, the W-4 bit is tungsten carbide tipped.
Are the motors used on Hoffmann machines the standard "laminate trimmer type"?
No, all motors are made in Germany for Hoffmann to our own exact specifications. Among other things, they are made to withstand the continuous on and off switching when the routing machines are in a production environment.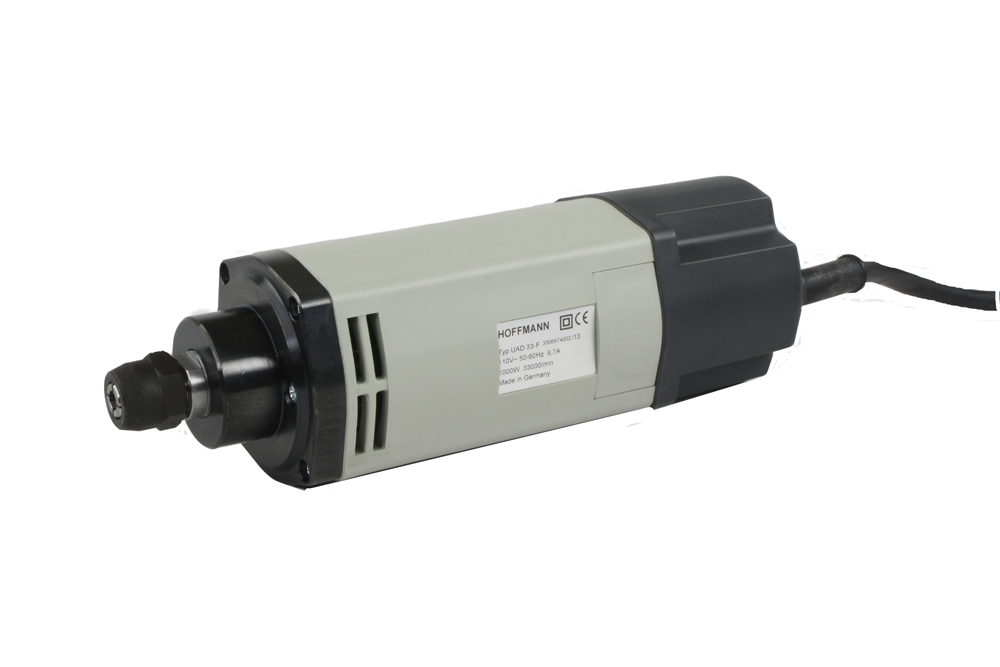 Can these motors be rebuilt?
Some parts for the motors are available for repairs. Upon request, we will gladly forward a detailed drawing and parts list to aid in rebuilding. However, we are not equipped to repair these motors at our facility. Repairs should only be done by qualified technicians.
Replacement motors are very reasonably priced. It is usually less expensive and faster to replace a motor if anything other than brushes or the switch is needed.
Can a bench top model be equipped with a larger motor?
Yes, the X-18, X-20 and all MU3 models can either be ordered with a larger motor or the motor can be purchased separately and installed by the owner. It is more advantageous for a customer interested in the larger motor to order this motor separately. The machine is then equipped with the standard motor including W-2 bit, and the 1000-watt motor is shipped extra. If a larger motor is installed by the customer, it is very important that this motor if wired through the limit switch, just like the OEM motor.
Plugging a new motor directly into a wall outlet and running it continuously will cause the motor to fail quickly and it will not be covered by our warranty. These motors must be switched on and off with every routing cycle.
When is it necessary to purchase the larger motor?
The 1,000-watt (for bench-top machines) or 1,700 watt motors (optional on PU-2 machines) are needed to process our W-4 keys.
Why are the free standing routing machines equipped with the larger motors from the factory?
These machines are designed for a production environment. This includes larger linear bearings and guides; heavy steel stands with cast aluminum tables, motors switched with contactors and heavier motors that allow the use of any size Hoffmann key.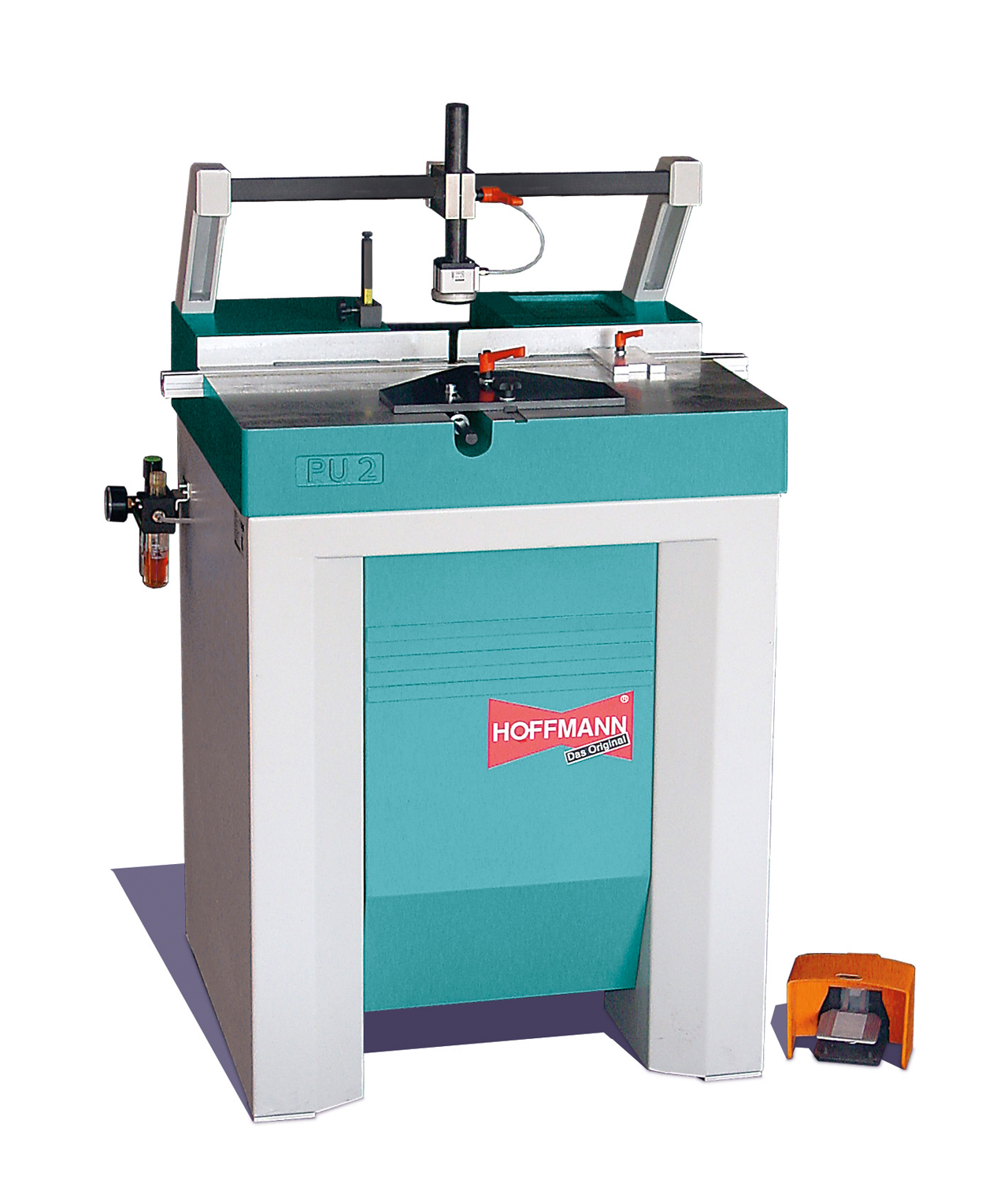 Are the electrical parts on a new machine covered under the warranty as well?
Yes, all components of our dovetail routing machines are completely warranted for one year. This includes all pneumatic valves, switches and flow controls, electrical switches and the motors.
The router bits are not covered under warranty. Also, please read our complete warranty terms at the end of this section.
What are the plastic keys made of?
The keys are made of a proprietary plastic compound, which has been designed and tested to be strong enough to firmly close the joint, but flexible enough to allow some measure of wood movement.
Are colors and sizes other than on the price sheet available?
Yes, we can manufacture plastic keys in close to 200 different colors. Upon request, we will send a complete color kit for selection. There is a 10,000 key minimum order for colors other than black or white.
Black or white keys can be ordered in lesser quantities (minimum 1,000 pieces) in some stock lengths.
Other lengths, special flange sizes or keys with embossed names or logos can also be made. Please contact us for details.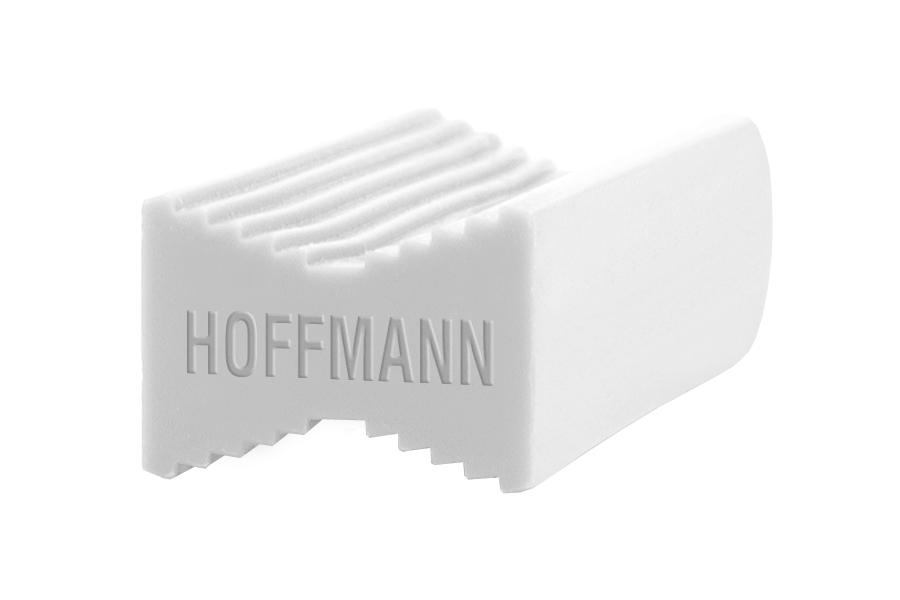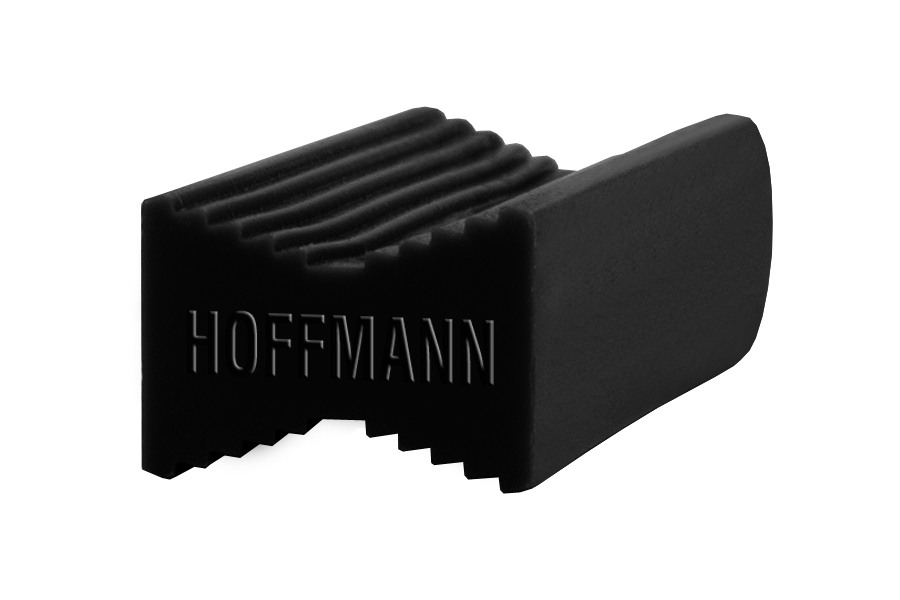 What species wood keys are available?
We offer the most common hardwood species including maple, mahogany, cherry, walnut, wenge and white oak. The wood keys are sold by the linear foot, to be cut to size by the customer, or on a special order basis pre-cut to size by Hoffmann. Lead-time for cut-to-order wood keys is usually 8-10 weeks. We can manufacture wood keys in species other than the ones listed for larger orders, please call for details.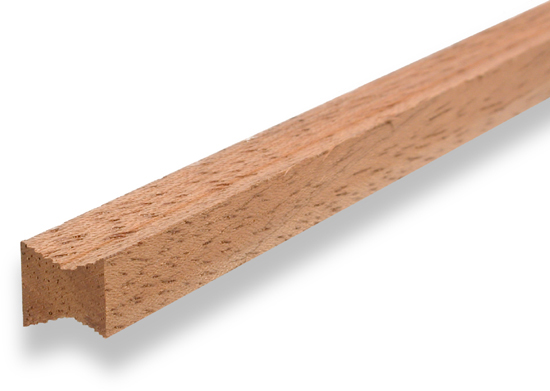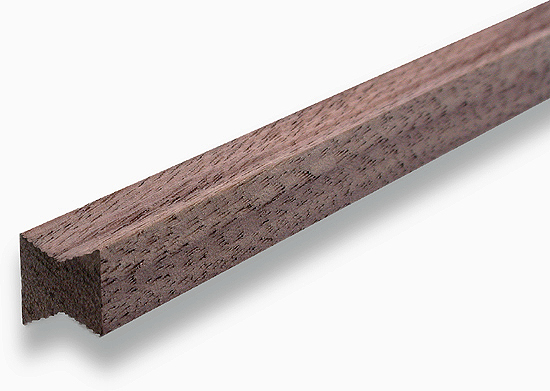 Why are Oak W-4 keys offered in two versions?
W-4 keys are available in solid wood and three-ply laminated oak. The solid wood is all end grain, which is uniform in color and appearance but not as strong as the laminated type.
The laminated oak keys are stronger and can be used for higher strength applications while still offering the advantage of being solid wood for appearance.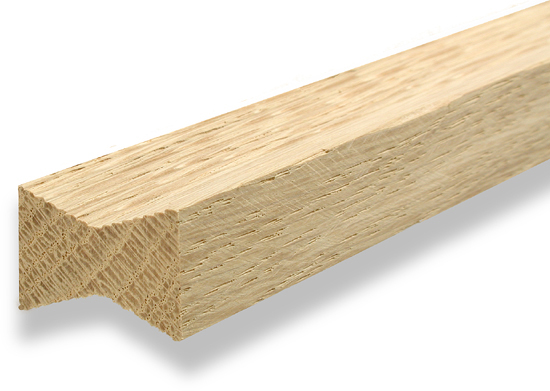 Selecting Keys and Router Bits
The Hoffmann Dovetail Joining System is used in woodworking, furniture manufacturing, window and door production, plantation shutter fabrication, custom and production picture framing shops, architectural millwork designs, store fixtures, pre-fab housing and much more, in shops and plants around the globe. To best suit an ever expanding range of joining application, a total of five different Dovetail Keys and corresponding Dovetail Router Bit sizes are offered, designated as W-0, W-1, W-2, W-3 and W-4.
These sizes refer to the cross-sections of the Keys (the size of the "bowtie"), and Keys in each size are available in a variety of different lengths.
W-0 Dovetail Keys
Our newest Key is also our smallest size; W-0 Keys were developed in response to custom picture framers in the UK asking for Keys to join material for which even a W-1 Key was too large. W-0 Keys will be offered in three different lengths, this range might be expanded if customer demands warrant it.
W-1 Dovetail Keys
In custom picture framing, W-1 Keys are used for thin shadow box moulding, for most floater frames, for small and delicate applied profiles and for thinner display case designs. W-1 Keys are also used for small trim moulding in cabinet shop, applied bolection moulding for architectural millwork and elevator interiors, etc.
W-2 Dovetail Keys
W-2 Keys are the most popular size and all Hoffmann dovetail joining machines are equipped with W-2 router bits from the factory. For most mid-sized to larger moulding, including thicker shadow box moulding (5/8" wall thickness or more) our W-2 Keys are a good choice.
W-3 Dovetail Keys
W-3 sized Keys are at times used for joining large and heavy frames and some of the larger stretcher bars, however often times if the material is large enough to warrant one W-3 Key one might also use two W-2 Keys side by side. Handrails joinery, thicker moulding and frames, outdoor furniture and plantation shutters are typical applications for W-3 Keys.
W-4 Dovetail Keys
The largest W-4 Keys are for timber framing, large windows and entry doors, sauna and sunroom construction, etc. and rarely find an application in the picture framing field.
Selecting the correct Key length
As a rule of thumb, always use the longest Key possible for a tight joint on the front or face side of the frame. The keyways (dovetail slots) in the moulding should be routed close to the front, about 1/16" to 1/8" below the finished side of the moulding.
For example, for 3/8" thick moulding use a 1/4" Key, for 5/8" moulding use a 9/16" Key, for 3/4" moulding use a 5/8" Key, 1" moulding use a 7/8" Key, for 1 1/2"moulding use a 1 1/4" Key, etc.
Shorter Keys can be stacked on top of each other and if Keys are a bit too long, they can be trimmed flush after they have been inserted.
Selecting the correct Dovetail Router Bit
Hoffmann Dovetail Router bits are made in two size versions - "standard" and "oversized" - to best match different joining situations.
Standard Bits are used for general joining applications including most woodworking applications and picture frame moulding. A standard W-2 bit is factory installed in every new machine.
Oversized Bits (which are slightly larger in diameter) are used in situations where tall and thin moulding is joined (typically in picture framing for shadow box and display moulding).
W-0 standard bits- very small decorative moulding
W-1 standard bits - used for small moulding with dimensions (profile cross sections) from 1/2" x 1/2" and up.
W-1 oversized bits - best for small and thin floater frames with wall thickness from 5/16" to 5/8
W-2 standard bits - our "all around" bit and will work great for most moulding from 3/4" x 3/4" and up
W-2 oversized bits - good choice for heavier material, handrails, shutter frames and taller shadow box designs with heavier wall thickness from 5/8" and up
W-3 standard bits – for large and heavy moulding used in large frames
W-3 oversized bits – rarely used in woodworking and picture framing as standard W-3 bits work well on heavy moulding.
W-4 Keys are ideal for timber framing, joining sunrooms and sauna construction and some window and curtain wall systems.
More questions??
If you have any questions as to which Keys to use, or whether you should use a standard or oversized bit, please call us toll-free (866) 248 - 0100 or send us an email to info@Hoffmann-USA.com. We look forward to helping you get the most out of your Joining System!