Product Description
MORSO machines are manufactured by the Dan-List Company in Denmark. This family owned company has been building quality woodworking machines since 1911 and enjoys a reputation for reliable, high-quality products and outstanding customer support. Anders Nielsen Christensen born on 27 June 1882 made the first mitering machine in the world in 1911 on the island of Mors – and the Morsø was born. The Danish letter 'Ø' means "island" therefore the name of MORSØ.
We have been MORSO's Exclusive US Distribution Partner for over 15 years and with many hundreds of machines in use throughout the country, we have the experience and spare parts on hand to support owners of MORSO notching machines for years to come.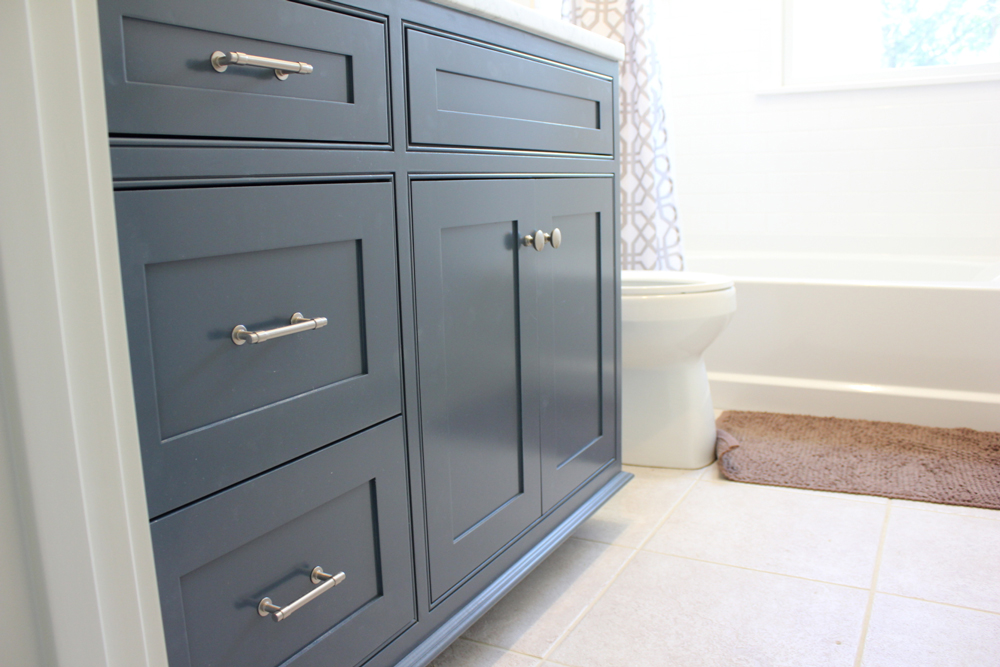 We currently offer three manually operated MORSO face-frame notching machines:
The light-duty MORSO NM is designed as an entry level machine for small shops.
This machine is based on a smaller MORSO miter chopper for picture frame moulding and while the manual operation is the same as on the larger NFL and NFXL models, the NM's cutting head, knives, main and extension tables are smaller and lighter duty in design.
MORSO NM machines are ideal for advanced hobbyists and small cabinet shops that need to produce a few beaded cabinets per year.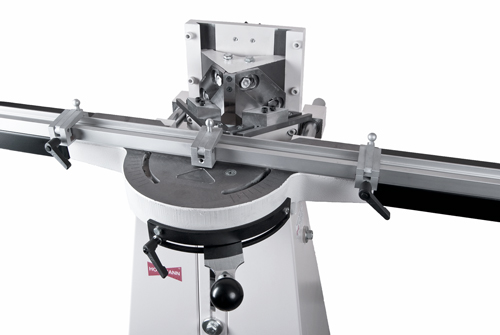 The heavy-duty but limited capacity (max. 2 3/4" wide moulding) MORSO NFL
This is the "grand daddy" of them all, the NFL was the first beaded face-frame notching machine and for a couple of years it was the only choice. Heavy-duty, with smooth movements and featuring a maximum material height of 6" it's only drawback is the limited material width of 2 3/4". This is due to the fact that the left and right hand fence rails are bolted along the front edge of the machine tables and they end at the center stop. 2.75" is the maximum distance the cutting head can be moved backward (away from the center stop) and moulding over 2 3/4" wide cannot be placed in the machine.
Chose this machine if you are certain none of your stiles and rails will ever be wider than 2 3/4" or if you need a dedicated machine to produce half-lap joints on window and door mullions. Generally a custom woodworking shop is better served with the larger capacity NFXL machine.

The heavy-duty, large capacity (max. 8" wide moulding) MORSO NFXL is by far our most popular and most versatile face-frame notching machine.
Based on the smaller NFL but with a completely redesigned center stop and moveable fence arrangement, the maximum distance with the cutting head all the way back and the center fence moved all the way toward the operator is 8". This wide adjustment range is ideal for custom cabinet manufactures needing 3", 5" or even 7" wide top or bottom rails in their custom work.
In addition to being able to accept face frame moulding up to 8" wide, the NFXL can be outfitted with a smaller cutting head and a 1/4" wide nose knife for the production of half-lap joints for window and door mullions, wine racks, etc.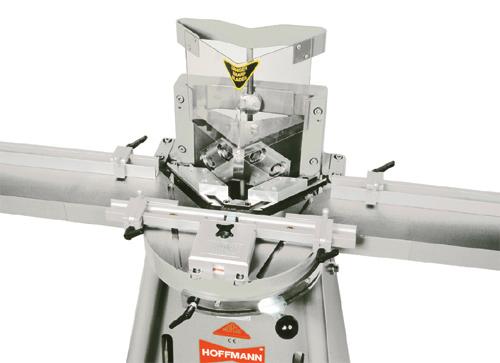 We also offer two automatic MORSO notching machines:
The electro-hydraulic but limited capacity (max. 2 3/4" wide moulding) MORSO NLEH
This is the electro-hydraulic version of the manual NFL model, with integrated oil pump, fluid reservoir and industrial PLC. All movements are controlled with touch-less proximity sensors and the two-hand safety controls on the front assure safe operation with both hands being far away from the cutting head.
Due to the fixed fence design, the machine is limited to 2 3/4" wide material but if that limitation is not an issue, it is a great choice for medium to higher production levels.

The electro-hydraulic, large capacity (max. 8" wide moulding) MORSO NXLEH
The top-of-the-line MORSO notching machine, the NXLEH has all the bells and whistles:
8" maximum moulding width capacity

6" maximum moulding thickness capacity

Fully self-contained hydraulic circuit with fluid pump generating 1,200psi hydraulic pressure

Industrial PLC with two-hand safety controls.
NXLEH is the ideal choice for medium to large cabinet shops and furniture production facilities looking for the utmost in efficiency without the repetitive motion concerns of a manual notching machine.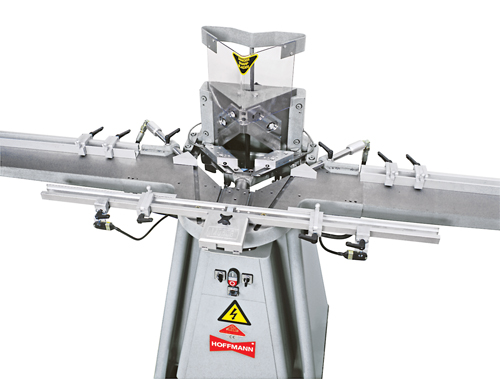 All MORSO notching machines can be outfitted with our DGS 1000 fence system to improve ease of use, accuracy and to quickly set index stops in often used positions (drawer banks, cabinet door openings, etc.) DGS 1000 Systems are the most popular accessories for MORSO notching machines and highly recommended for shops of any size.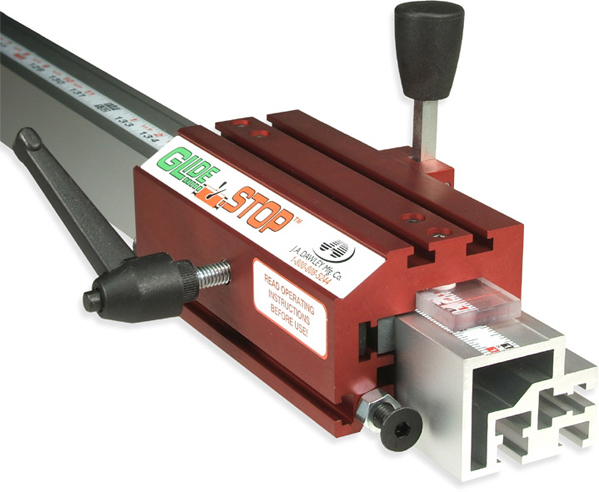 To further increase productivity and speed, we offer automated positioning system with and without cut-off saws for both manual and electro-hydraulic MORSO notching machines.
The included software package allows the operator to design a face frame in minutes on the screen, or complete files can be downloaded via a USB port.

Please follow this link for more details, available lengths on RazorGage Positioning System with and without integrated cut-off saws

MORSO knife sharpening services
Whichever MORSO notching machine machine you choose, be sure to always return side knives and nose knives to Hoffmann, Inc. for sharpening. These knives require a special hollow grind geometry as well as hand-honing to achieve a razor sharp edge. Most commercial tool sharpening services do not have have the correct equipment for these knives and once flat-ground, they are pretty much ruined.
We use a custom grinding machine made by MORSO to get your knives back to factory-new condition.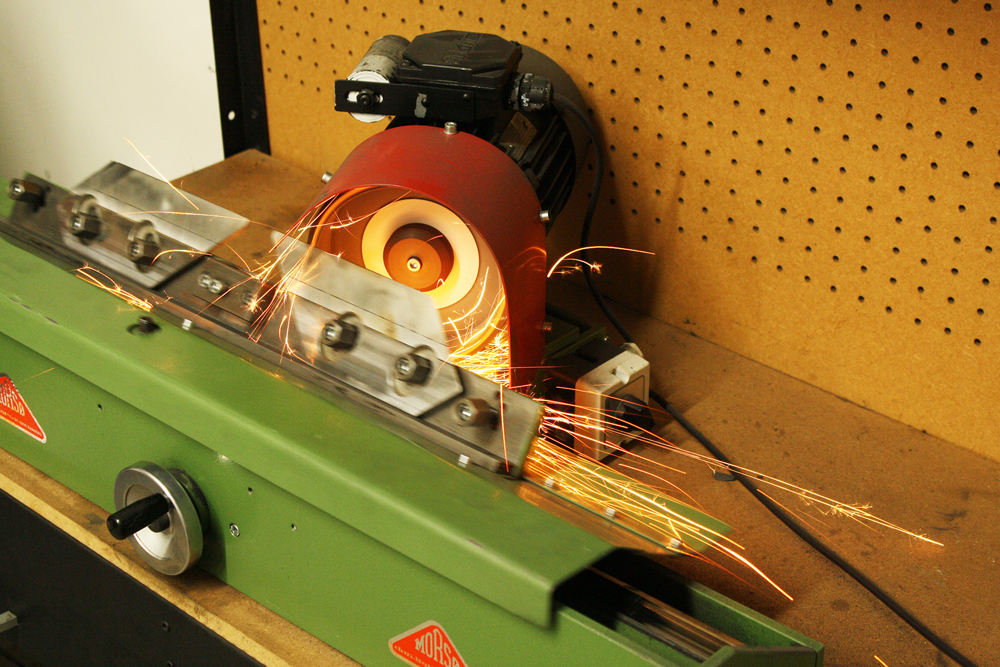 Product Videos
Custom Field
Product Reviews