Product Description
Please click here to email us for a current freight quote – be sure to include your full address and whether you need optional services such as lift-gate service and/or residential delivery.
Overview:
The MORSO NM notching machine is manually operated, light-duty notching machine for the production of beaded face-frames, French-mitered cabinet doors as well as muntin and mullion joints.
While this is smallest MORSO notching machine available, the manual operation of the machine, the shape of the cutting head and the MORSO length stop fences are based on the larger NFL and NFXL models.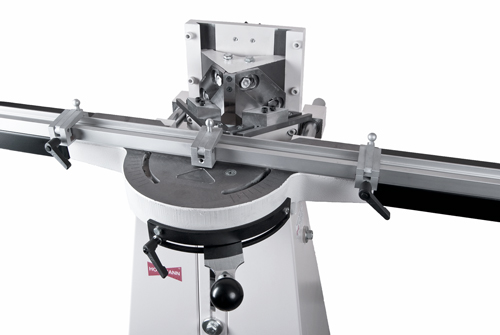 The main differences between the MORSO NM notching machine and the larger, heavy-duty MORSO NFL and MORSO NFXL notching machines are a smaller base frame and reduced footprint, lower table height, sheet-metal extension tables in place of cast-iron tables, overall lighter construction and smaller cutting head and knives. The center table is borrowed from a MORSO guillotine-style moulding chopper and the center stop is a flip-stop design.The vertical travel of the cutting head (and thus the resting position of the foot pedal) can be adjusted depending on workpiece thickness, assuring comfortable operation.
Optional smaller Cutting Head
To increase the range of applications, we offer smaller cutting heads for MORSO NM notching machines. These smaller heads are required to install 1/4", 5/16" or 3/8" wide nose knives which are generally used for mullion or muntin joinery. The cutting heads can be replaced in only minutes and MORSO NM side knives fit on both heads; only the nose knives differ in design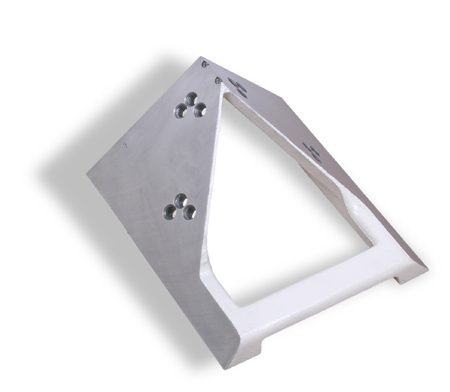 Operation:
Beaded Face-Frame Notching Operation – full notch in stiles to accept cross rails (shown on MORSO NM)
Upon adjusting the cock-bead stops to set the notching depth, the moulding is placed on the machine table and one end is rested against a flip-stop. The hand lever in front is used to move the cutting head horizontally to and from the operator. Depending on the width of the cut, the thickness and hardness of the moulding, two to four cuts are made to complete the notch. This process takes only seconds and the resulting cuts are smooth and free of tear-out.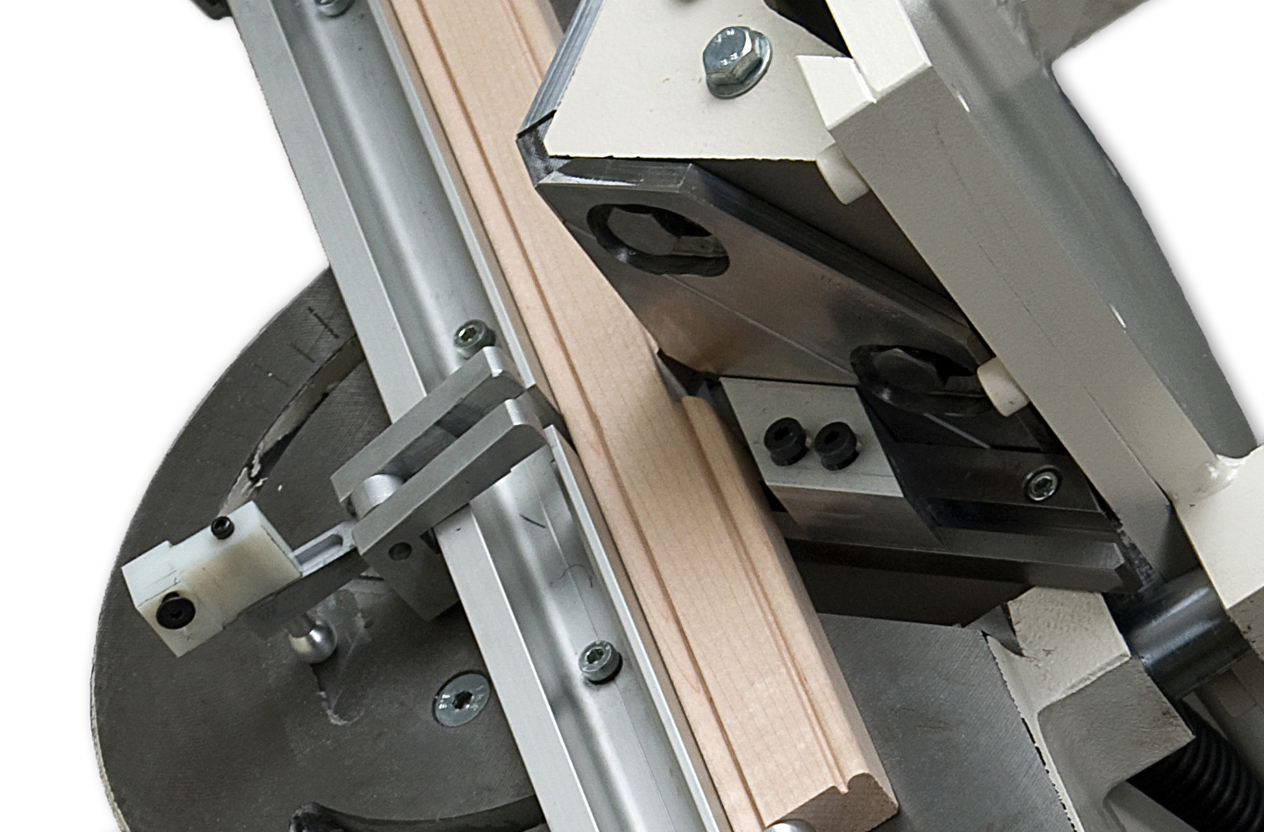 Beaded Face-Frame Notching Operation – half notch in stiles to accept top and bottom rails (shown on MORSO NFL)
A half-notch for top and bottom rails is cut into the left and right stiles in the same manner as a full notch. A "long arm" flip-stop is used to position the stile properly (the long arm is designed to reach past the cock-bead stops). For wider cross rails the stile is moved sideways after each cut until the desired notch width is reached.
(note - image shows half-notch operation on MORSO NFL notching machine)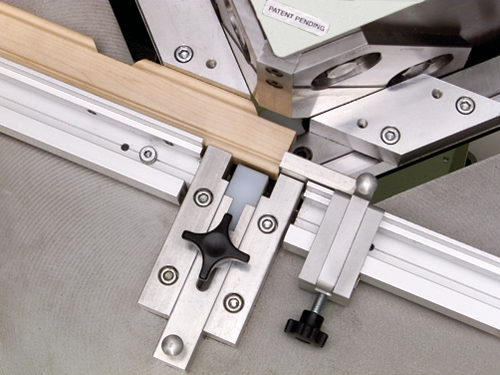 Beaded Face-Frame Coping Operation – clipped corners on rails (shown on MORSO NM)
Upon adjusting the setscrews in the nylon center fitting, the stop is moved toward the cutting head and locked in place. The rail is placed on the table and pushed against the stop. The 45-degree corner cut on the bead is made in one cycle, multiple cuts are not necessary. The moulding is then flipped end-for-end and the process is repeated.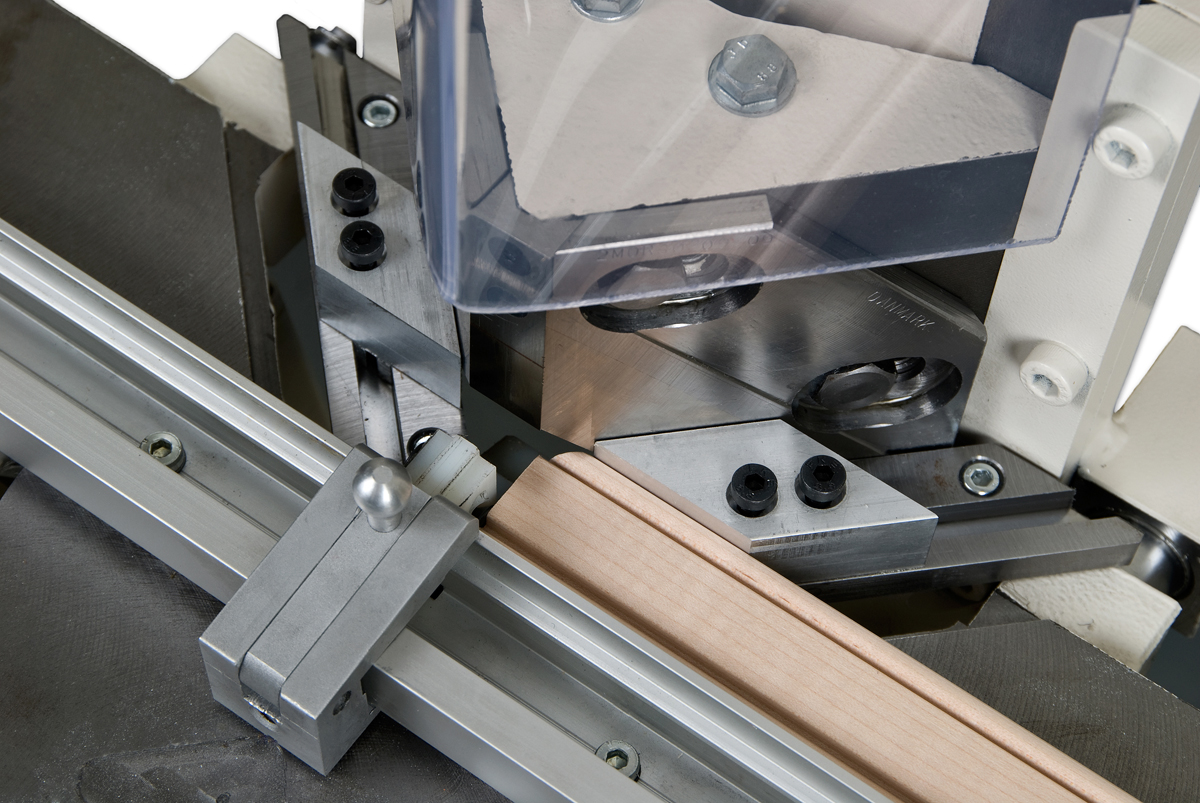 Window Mullion Notching Operation – step 1 (shown on MORSO NFL)
Upon adjusting the cock-bead stops to set the notching depth, the moulding is placed on the machine table and one end is rested against a flip-stop. The hand lever in front is used to move the cutting head horizontally to and from the operator. Two cuts are generally enough to produce a clean notch.
IMPORTANT:
The mullion profile must have a "flat-spot" in the center and this flat spot should match the width of the nose knife. We highly recommend you produce your mullions with a 1/4" flat spot – you can then use not only a 1/4" wide nose knife with your notching machine but also a 1/4" spiral router bit on a Hoffmann routing machine for step 3.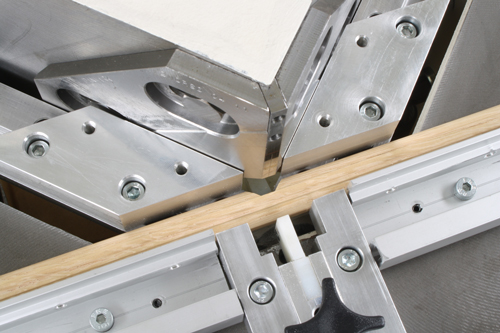 Window Mullion Notching Operation – step 2 (shown on MORSO NFL)
Once all notches are cut along one edge of the mullion, the process is repeated on the other side. It is important to have the notches aligned for tight joints.
A DGS 1000 fence system is a worthwhile investment for these operations.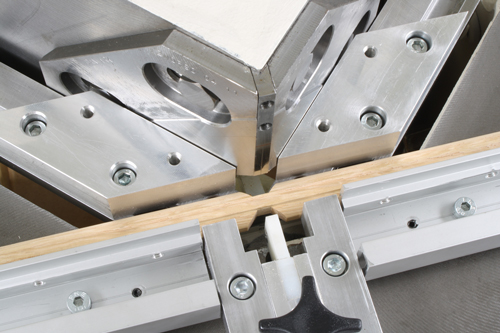 Window Mullion Routing Operation – step 3 (shown on Hoffmann X-20)
Once all notches are cut on a MORSO notching machine, one-half of the mullion stock needs to be removed to create a half-lap joint. We offer a complete fixture set including the necessary 1/4" spiral down-cut bit under part number W30110000 Half-Lap Joint Fixture Kit.
One set of mullions (either the vertical or the horizontal pieces) are routed from the bottom up and the other set must be routed from the face side down.
We use a spiral down-cut bit to minimize "fuzzing" or tearing of the material, a slow and steady routing stroke produces very clean cuts even on profiled mullions.
Fixtures are compatible with Hoffmann X-20, MU3, MU3-D, MU3-P and MU3-PD machines.
Mullion on half-lap fixtures - cutting into top (front) of mullion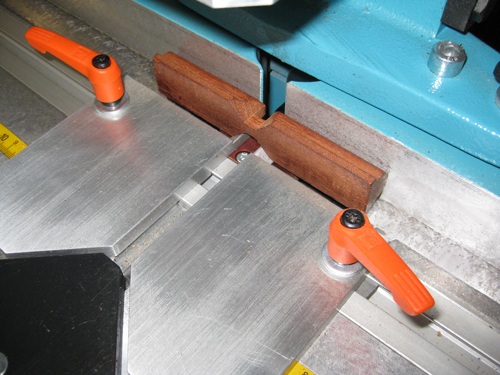 Mullion on half-lap fixtures - cutting into bottom (back) of mullion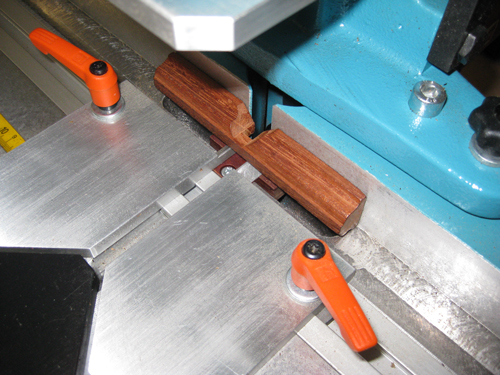 Completed half-lap mullion joint - front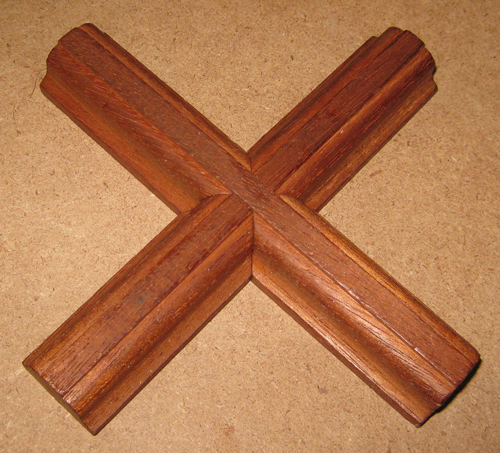 Completed half-lap mullion joint - back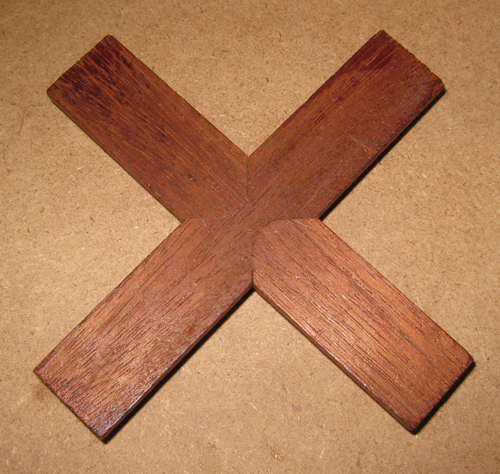 Options:
Optional DGS 1000 GlideStop Fence system for MORSO NM
A complete GlideStop fence system is available as an option for all MORSO notching machines.
This upgrade offers the following benefits:
Fully adjustable index stops can be set at any point along the fence rails for repeated accuracy
Index Stops can be spaced as close as 9/16" apart
Twenty index stops are included in the basic package, additional Stops can be added anytime
Index stops can be by-passed at any time without moving and re-setting
Self-adhesive tape scales on both fence rails for accurate positioning in 1/32" increments
Offers the benefits of twenty standard flip-stops at a fraction of the cost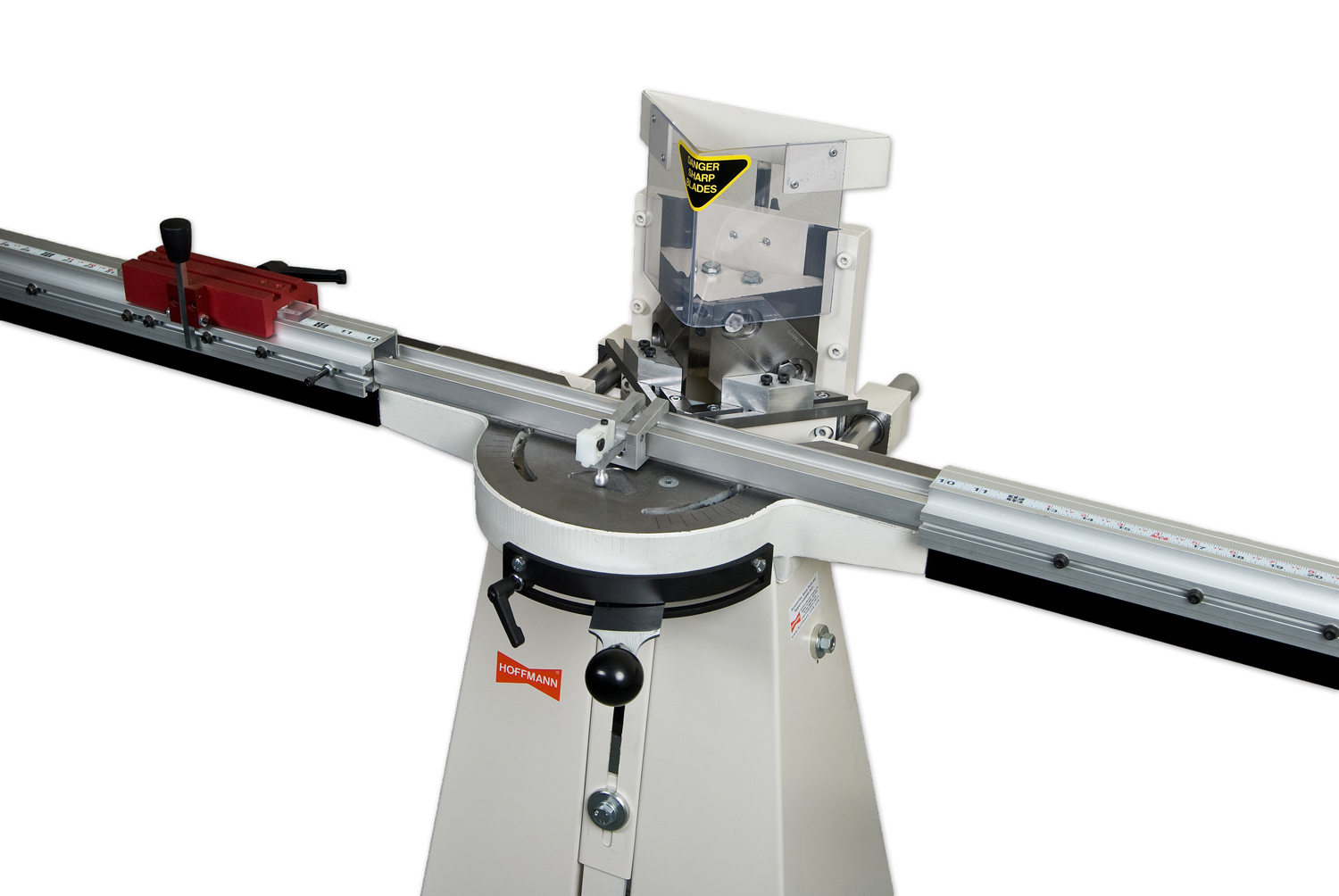 Once set, the GlideStop uses a spring-loaded contact arm to register against the index bolts. This "mechanical memory" design has the accuracy needed to make precisely spaced face-frames, again and again. It is especially helpful for repetitive settings like drawer banks, door openings, etc. which do not change from job to job. In addition, the system allows the user to by-pass pre-set index bolts at any time, without having to move and re-adjust the stops!
The contact arm is simply tilted forward, sliding over the stop index.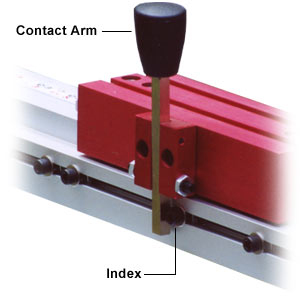 The location of the GlideStop is shown on the tape scale, hairline pointers on each side make set-up fast and reliable. An optional digital upgrade is available if a digital read-out in inches and millimeters is preferred.
The patented GlideStop design uses a pressure bar to clamp against the fence rail. This avoids the marring of the rails by the locking lever, and it also assures positive clamping without "creeping". Simply slide the GlideStop to the desired position and turn the locking lever - done.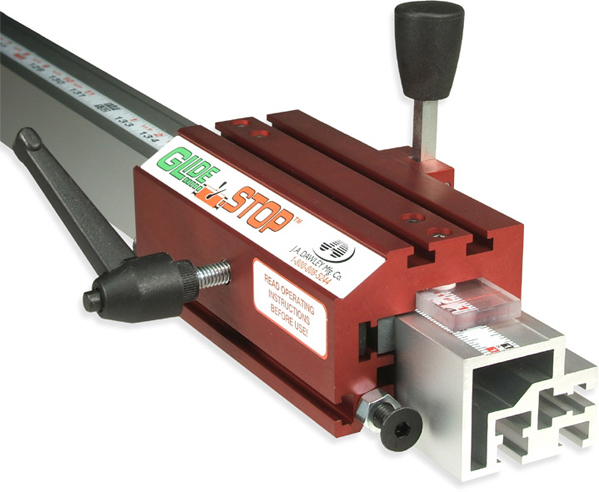 MORSO NM Standard Features:
MORSO NM foot operated notching machine for beaded face-frames include:

safety guard

two flip-stops

one center flip-stop

left and right hand side sheet metal table extensions

left and right hand side aluminum fence rails

one set of original MORSO side knives for NM, factory ground and honed

one 3/4" wide nose knife for NM, factory ground and honed

detailed instructions incl. parts diagrams, toolkit

Warranty:
Mechanical parts are warranted for twelve months.
Complete MORSO warranty terms apply.

Freight Cost Information:
All MORSO NM manual notching machines are shipped in a plywood crate which is attached to a pallet. This requires the use of a common carrier trucking company but greatly reduces the risk of transport damage to the machine.
If you would like to get a freight quote or place an order for this machine, please contact our office toll-free at (866)248-0100.
MORSO NM notching machine - technical data:
| | |
| --- | --- |
| Max. Moulding Width | 4" (100mm) |
| Max. Moulding Thickness | 3" (75mm) |
| Nose Knife Capacity | 1/2" - 1" width (1/4", 5/16", 3/8" with optional smaller NM cutting head) |
| Extension Tables | sheet metal construction, black finished surface, 18 3/4" long, one left and one right hand side |
| Fence Rails | silver anodized aluminum, 59 1/2" total length, one left and one right hand side |
| Flip Stops | aluminum, with locking lever, one per side plus one center stop |
| Table Height | 33" - floor to table surface |
| Width Including Fence Rails | 63" |
| Weight | 110 lbs. |
MORSO knife sharpening services
Whichever MORSO notching machine you choose, be sure to always return side knives and nose knives to Hoffmann, Inc. for sharpening. These knives require a special hollow grind geometry as well as hand-honing to achieve a razor sharp edge. Most commercial tool sharpening services do not have the correct equipment for these knives and once flat-ground, they are pretty much ruined.
We use a custom grinding machine made by MORSO to get your knives back to factory-new condition.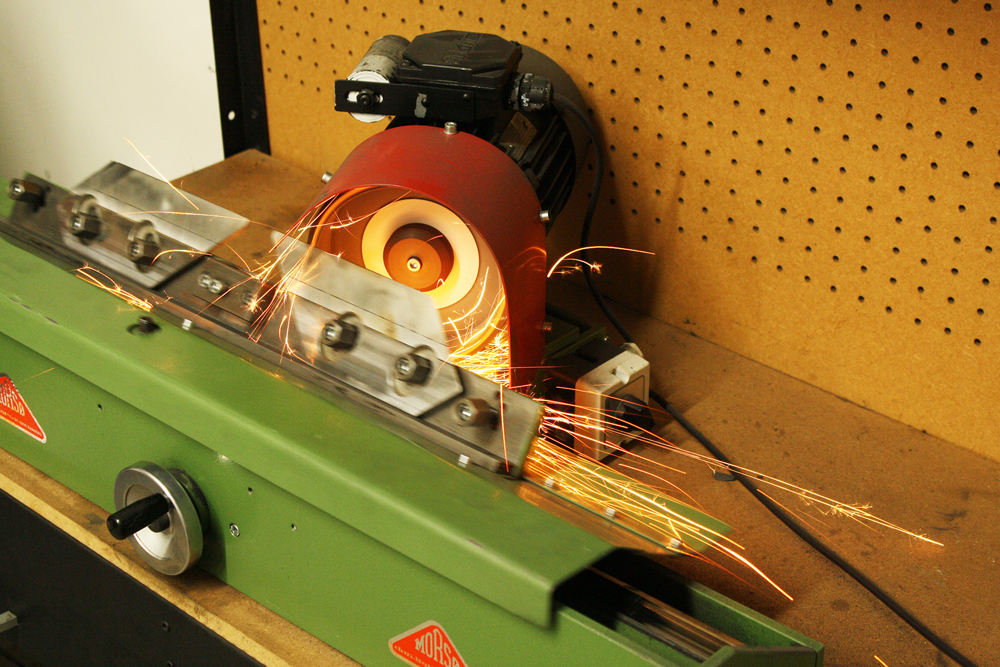 Custom Field
Please contact us to order
We have partnered with a number of nationwide trucking companies to help us find the best way to transport your machine to your shop. Please email info@Hoffmann-USA.com or call our office toll-free (866) 248 – 0100 from M-F 8.00AM – 4.00PM EST.
Best Freight Options
We will provide a firm freight quote, delivered to your door, including options such as lift-gate or residential service, for your review before you purchase your machine.
Product Reviews