Product Description
Overview
Developed to meet the demand for more automation and higher productivity, our Beaded Face-Frame Combination Systems tie three separate pieces of equipment into one seamless work cell:
RazorGage Positioning System + Festool Cut-Off Saw + MORSO face frame notching machine



From the outset we've designed our systems to be as cost effective as possible.
By using the same RazorGage Positioning System for precise length cutting of stiles and rails and also for positioning of the moulding for notching and coping, you are using one positioning system for two different processes!
This eliminates the need to invest in a separate positioning system + cut-off station, saving you time, shop space and money.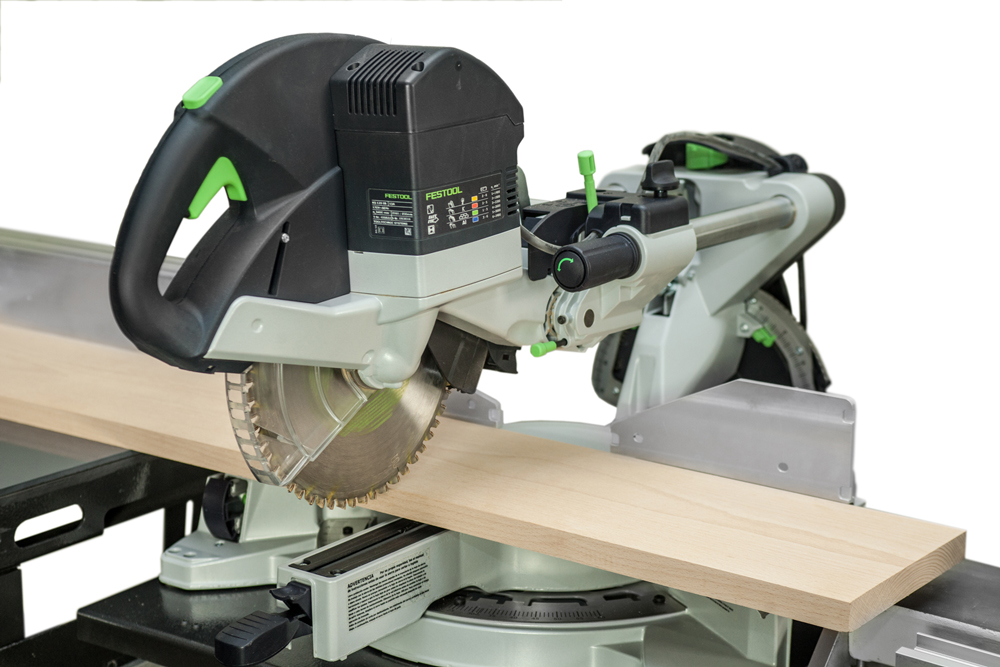 Details
This automatic positioning system, combined with a FESTOOL cut-off saw and MORSO notching machine, is designed for fast and accurate production of beaded cabinet face-frames. The precision stop system, manufactured by RazorGage to Hoffmann specifications, features a fully adjustable saw shelf, attachment brackets and riser platform for manual NFL & NFXL as well as electro-hydraulic NLEH & NXLEH Morso notching machines.
Included is a comprehensive software package that allows the operator to design face-frames individually right on the large color touchscreen or one can download complete files
from cabinet design programs capable of outputting .RZG files.
All three components are connected with special hardware and custom brackets to create an integrated, sturdy and reliable machining cell.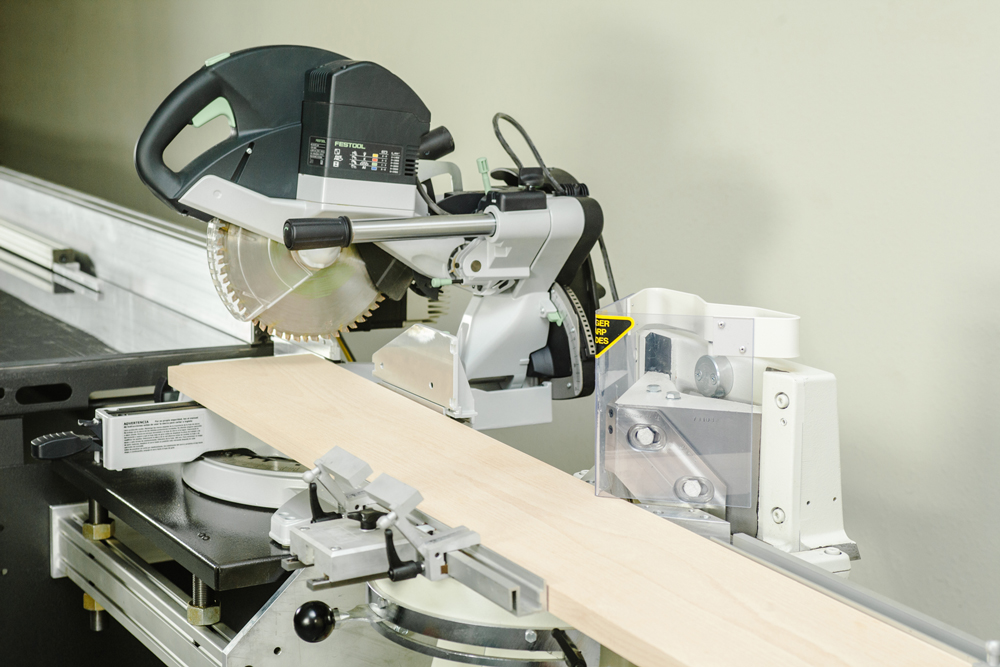 Two machines – one Positioning System
The RazorGage stop system is calibrated on one screen to work with the chop saw for cutting stiles and rails to length and it is calibrated on another screen to the center of the nose knife on the notching machine. This design reduces cost and space requirements by using one positioning system for two separate processes.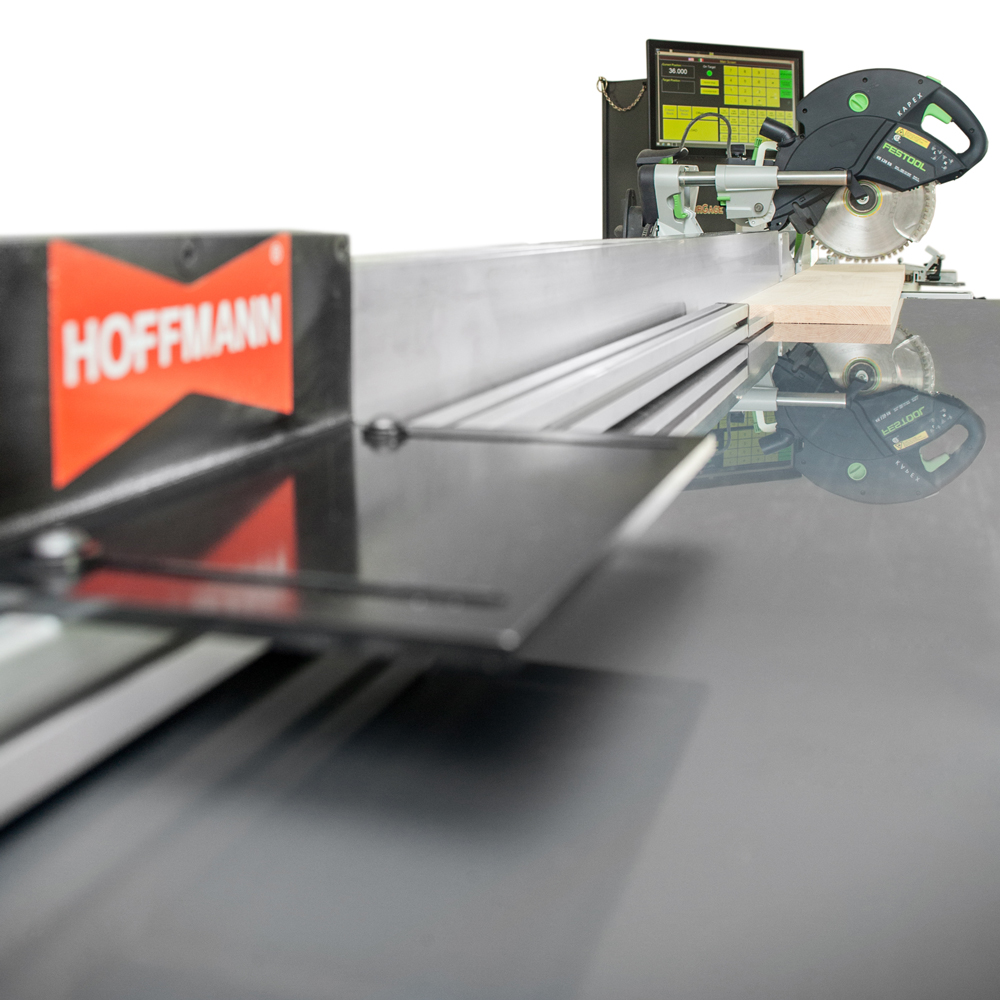 Software Features
The included software package allows the operator to design a face-frame "from scratch" on the touch screen or to download completed files via USB connections.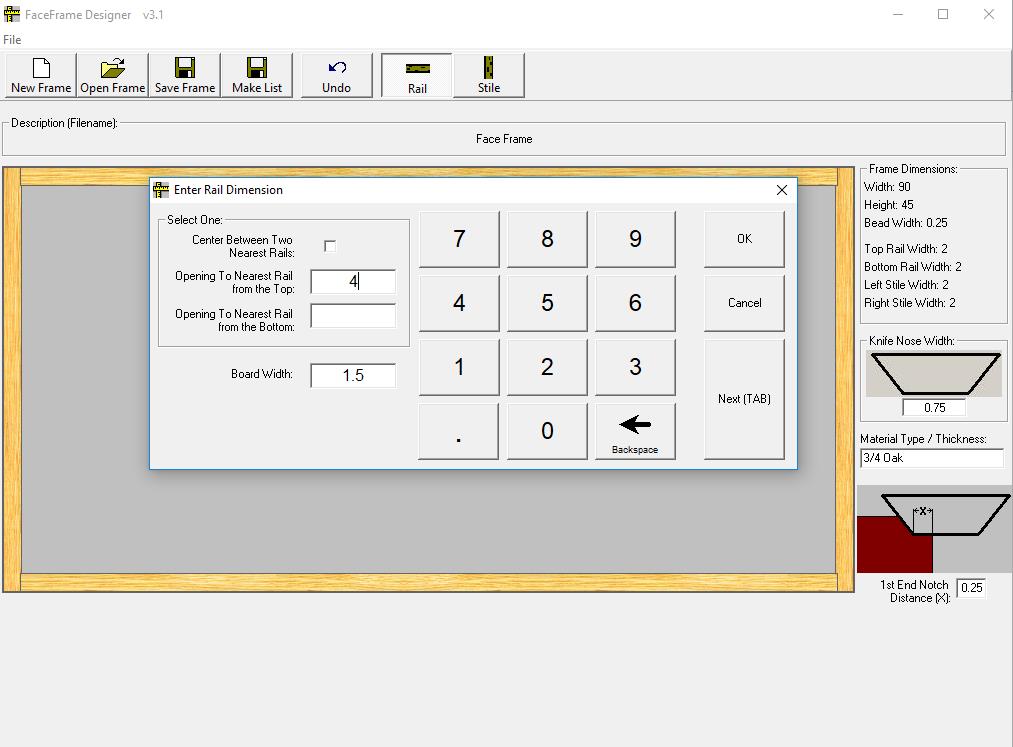 Different widths of stiles and rails are shown on screen for visual verification and it is no longer necessary to match moulding sizes with nose knives (recommended when using a manual stop system).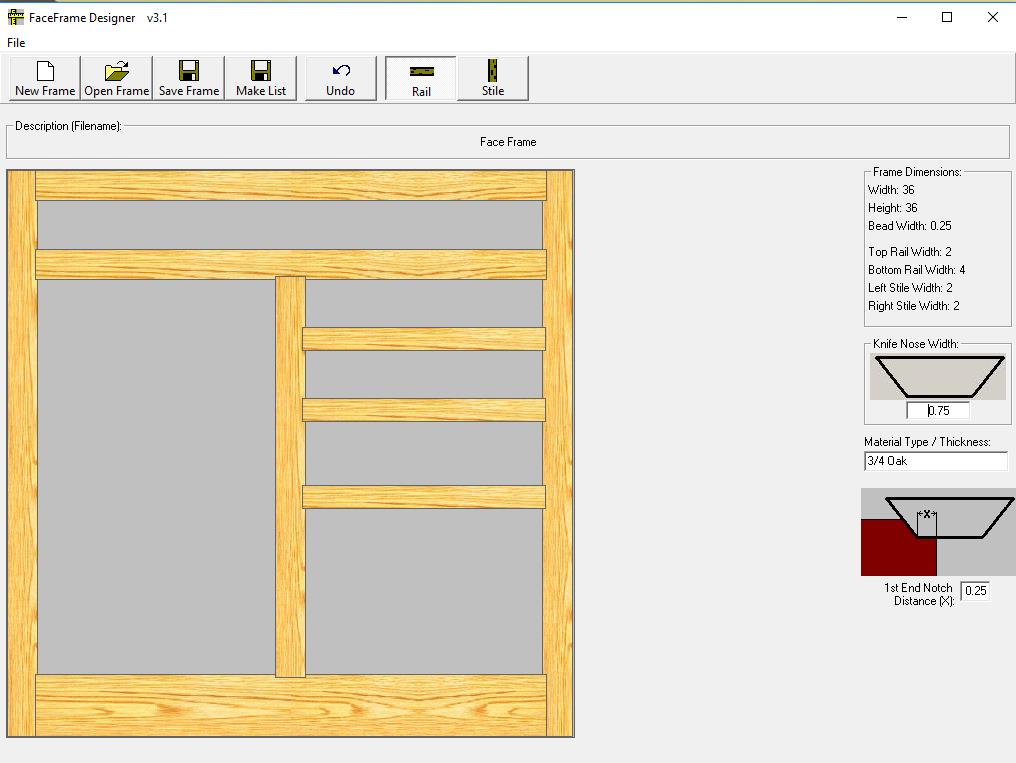 When a new nose knife is installed, its width is entered on screen and the program automatically calculates the correct notch positions as well as the number of steps if a notch is wider than the installed nose knife. Beaded face frames for custom cabinets, often with different size stiles and rails to match your clients design can now be manufactured quickly and effortlessly.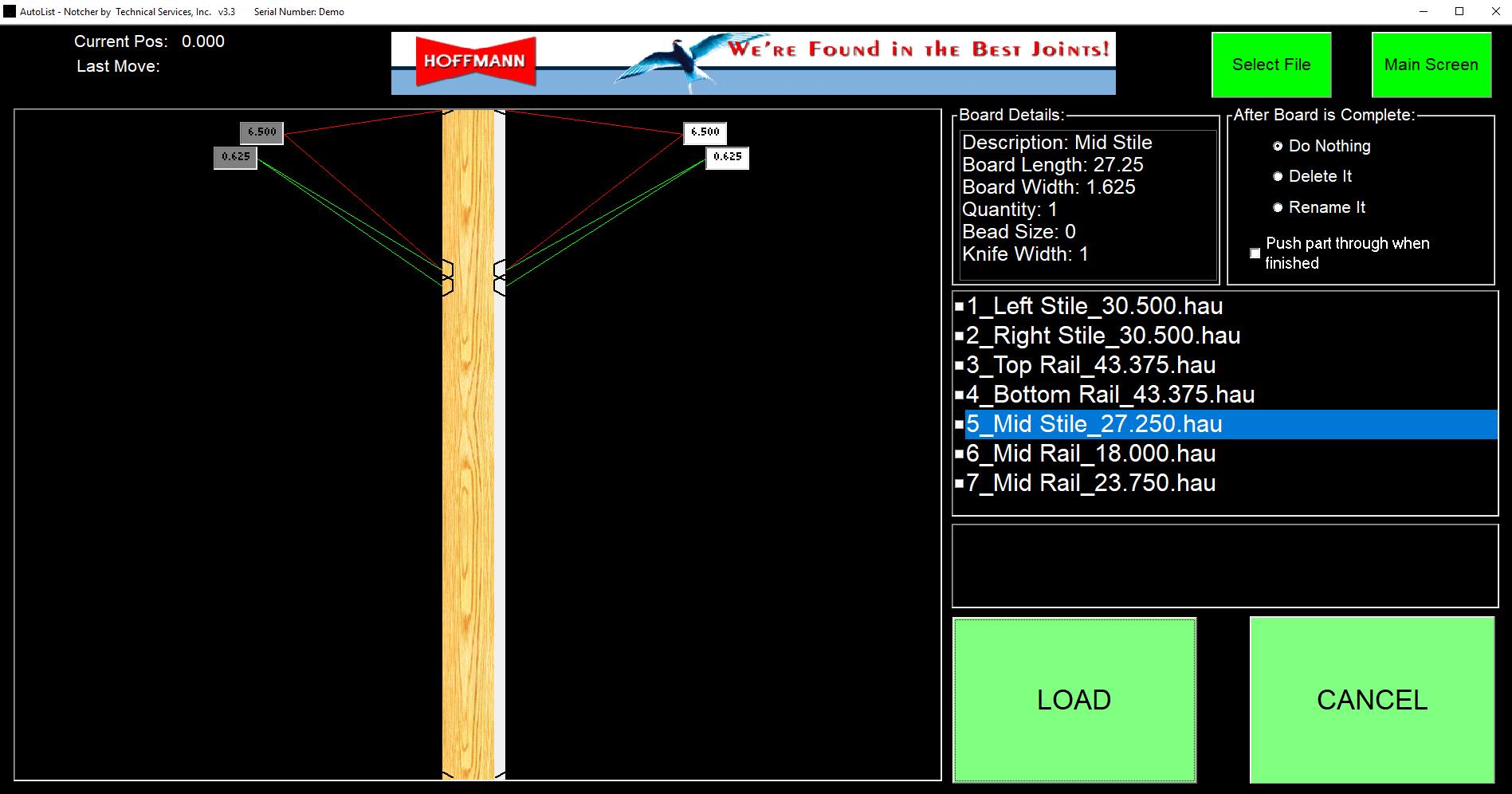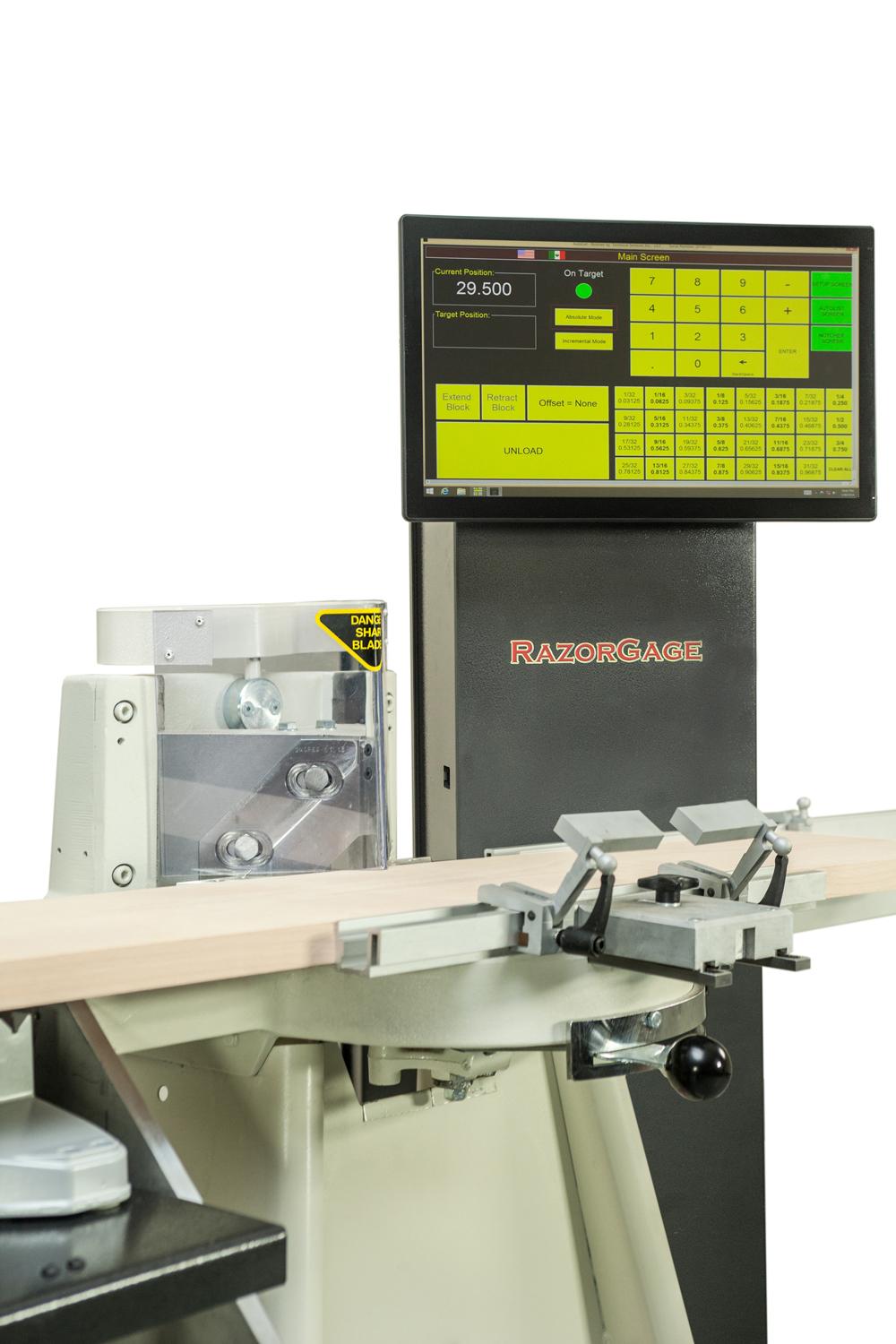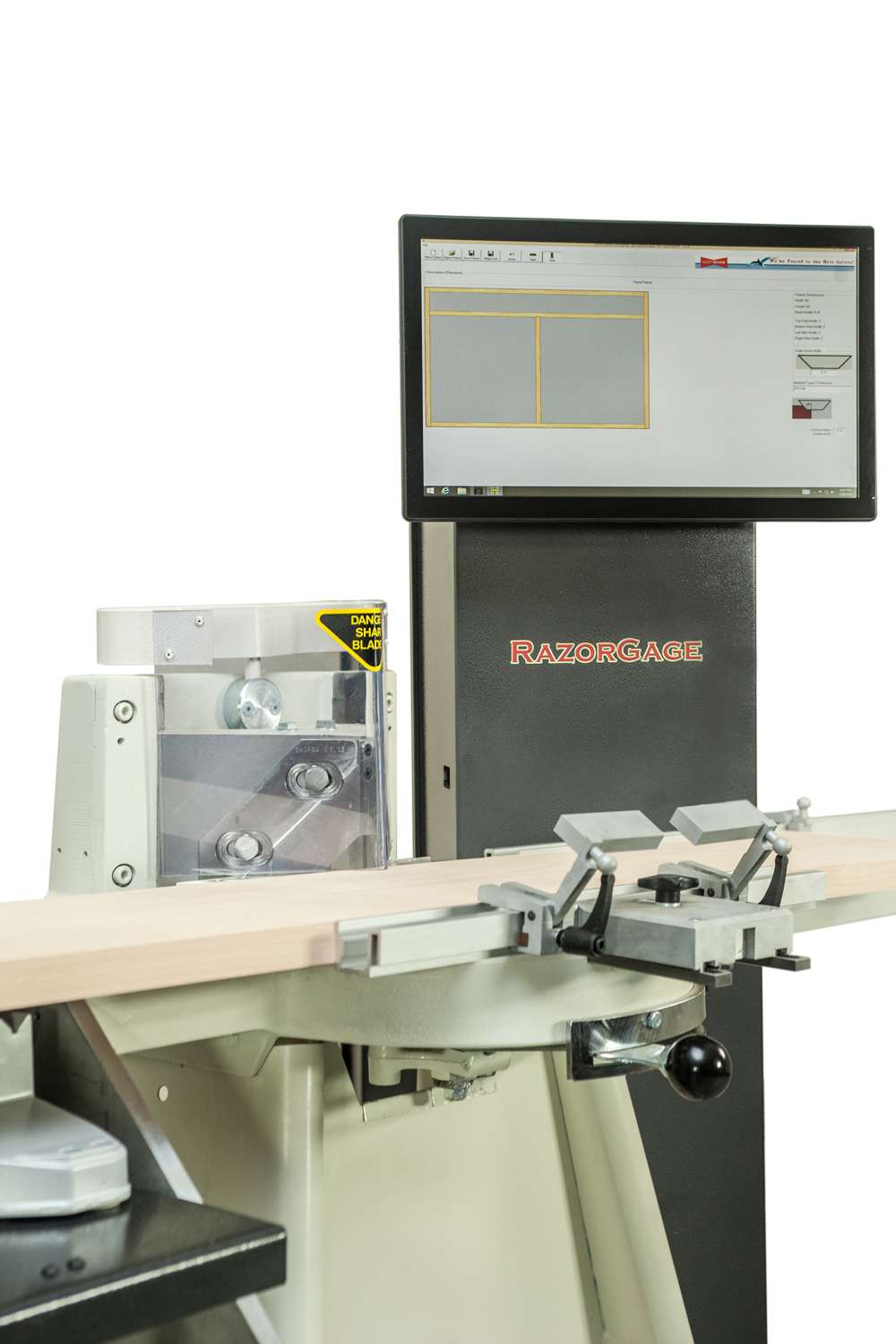 Operation
The first step is designing a face-frame right on the screen or importing a data file using the USB port. When the complete face-frame is shown on the screen, the file is saved and a cut-list is automatically generated.
With the screen switched to "sawing operation", the stop system is calibrated to the saw blade and precise length cuts are made on all stiles and rails.

When all parts are cut, the operator switches the screen and cope cuts and notches along the moulding edges are positioned with the screen switched to "notching operation".
After completing a notch, the operator presses a button and the system advances the material as needed for notches wider than the nose knife width. This allows for quick production of custom face-frames with stiles and rails in varying widths (wider top and button rails, wider cross member for refrigerator openings, smaller cross-members between drawers, etc.)
Accuracy is 4/1000' (0.1mm), assuring tight, clean joints in stain and paint grade frames.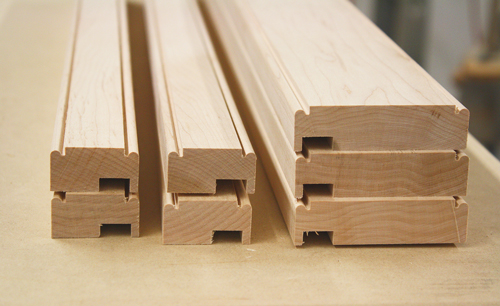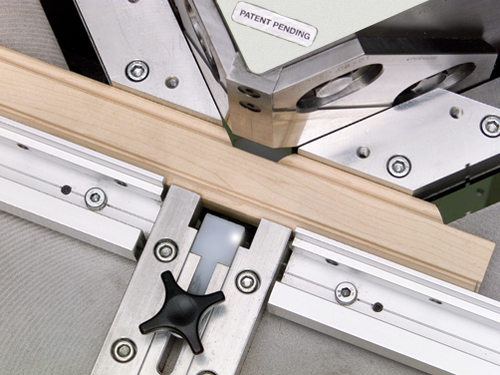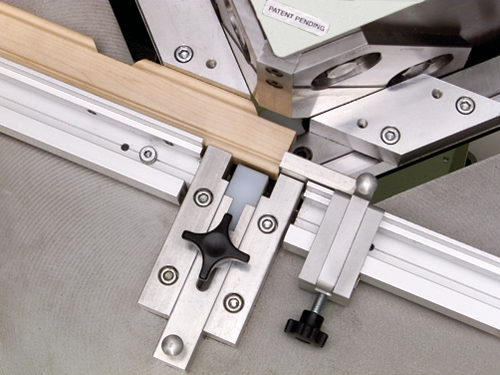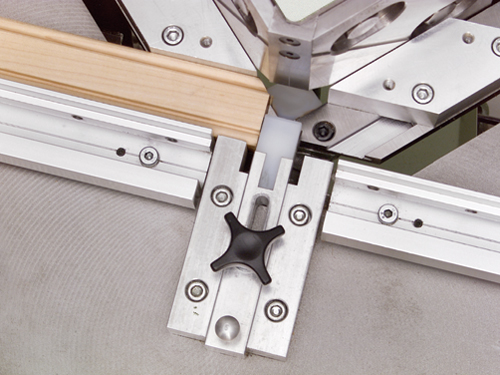 Different Systems Lengths to meet your needs
To best match the system with our customer's production requirements we offer a variety of system lengths – see RGC 95, RGC 119, RGC 143 and RGC 167 models below.

Technical Data RGC 167-14

| | | | | |
| --- | --- | --- | --- | --- |
| Model | RGC 95 | RGC 119 | RGC 143 | RGC 167 |
| Max. distance at nose knife | 95" | 119" | 143" | 167" |
| Max. distance to saw blade | 68" | 92" | 116" | 140" |
| Overall system length (approx.) | 204" | 228" | 252" | 276" |
| Table length | 10 ft. | 12ft. | 14ft. | 16 ft. |
| Table support legs | 2 | 3 | 3 | 3 |
| MORSO machine (included) | NFXL | NFXL | NFXL | NFXL |
| MORSO nose knives (included) | 3/4" & 1" | 3/4" & 1" | 3/4" & 1" | 3/4" & 1" |
| Cut-off saw Festool (included) | Kapex 120 | Kapex 120 | Kapex 120 | Kapex 120 |
| Standard touch screen | 15.5" diag. | 15.5" diag. | 15.5" diag. | 15.5" diag. |
| Optional screen (w. tower stand) | 21" diag. | 21" diag. | 21" diag. | 21" diag. |
Please note - We reserve the right to make technical and design changes and to change make and model of cut-off saw.
Whats included in the RGC 167-14 Equipment Package:
RazorGage Automatic Positioning System with 14ft. stroke length

140" working length on saw and 167" working length on MORSO

15.5" touch-screen monitor and windows-based software package

Adjustable saw platform installed between RazorGage and MORSO machine

Riser platform for MORSO machine

FESTOOL Kapex 120 saw and saw blade

MORSO NFXL wide-capacity manual face frame notching machine

One 3/4" and one 1" nose knife and set of side knives for MORSO NFXL

All necessary hardware, instructions, toolkits, etc.
Installation by Hoffmann technician is highly recommended and is quoted based on time and travel distance.

If you already have a reliable saw station for your face frame stock in place, you can purchase a RazorGage + MORSO combination without a cut-off saw instead – please follow this link to our line of RGNFXL Systems.
And if you are like many our customers who have purchased a MORSO machine with a manual stop system in the past and you now need to meet increased demand for beaded face-frame cabinets, you can order a RazorGage Positioning System (with or without a cut-off station) individually and add it to your existing MORSO notching machine.Please contact us to discuss your needs and we will be glad to provide a detailed quotation.
MORSO knife sharpening services
Whichever MORSO notching machine you choose, be sure to always return side knives and nose knives to Hoffmann, Inc. for sharpening. These knives require a special hollow grind geometry as well as hand-honing to achieve a razor sharp edge. Most commercial tool sharpening services do not have the correct equipment for these knives and once flat-ground, they are pretty much ruined.
We use a custom grinding machine made by MORSO to get your knives back to factory-new condition.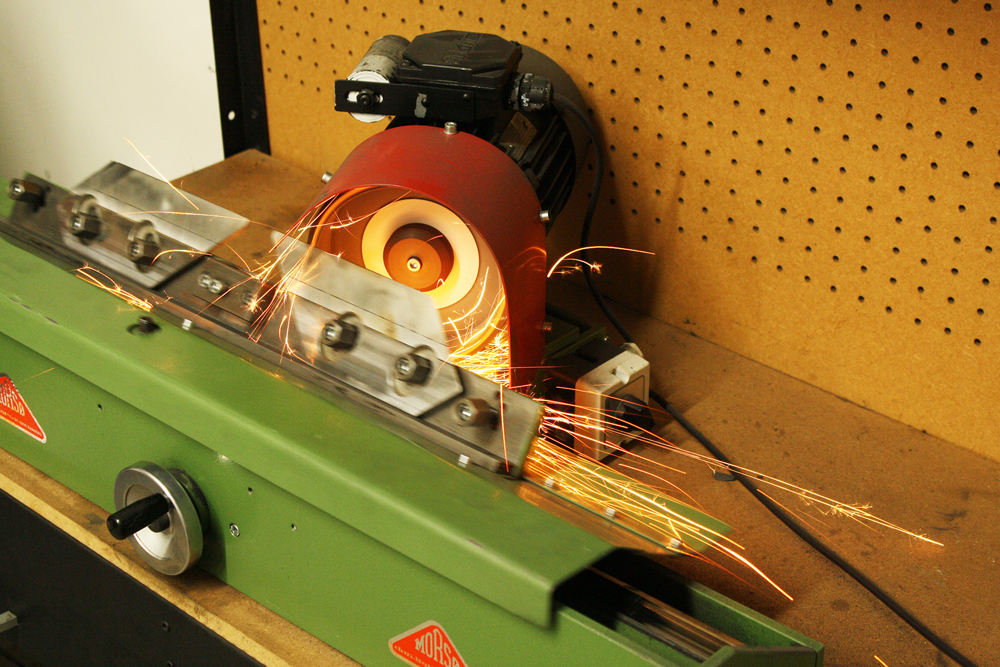 Product Videos
Custom Field
Note
Please contact us for an estimate on delivery times and freight charges and to place an order for this Face Frame Combo System
Product Reviews