Product Description
Overview:
Standard brush-style router motor is replaced with production-duty High-Frequency Router Motor for extended service life, reduced maintenance and higher production levels.
Production-duty, freestanding dovetail routing machine with solid cast aluminum table and heavy steel frame. Machine is designed to rout a single dovetail keyway with each machining cycle. For Dovetail Keys sizes W-0,W-1, W-2, W-3, and W-4.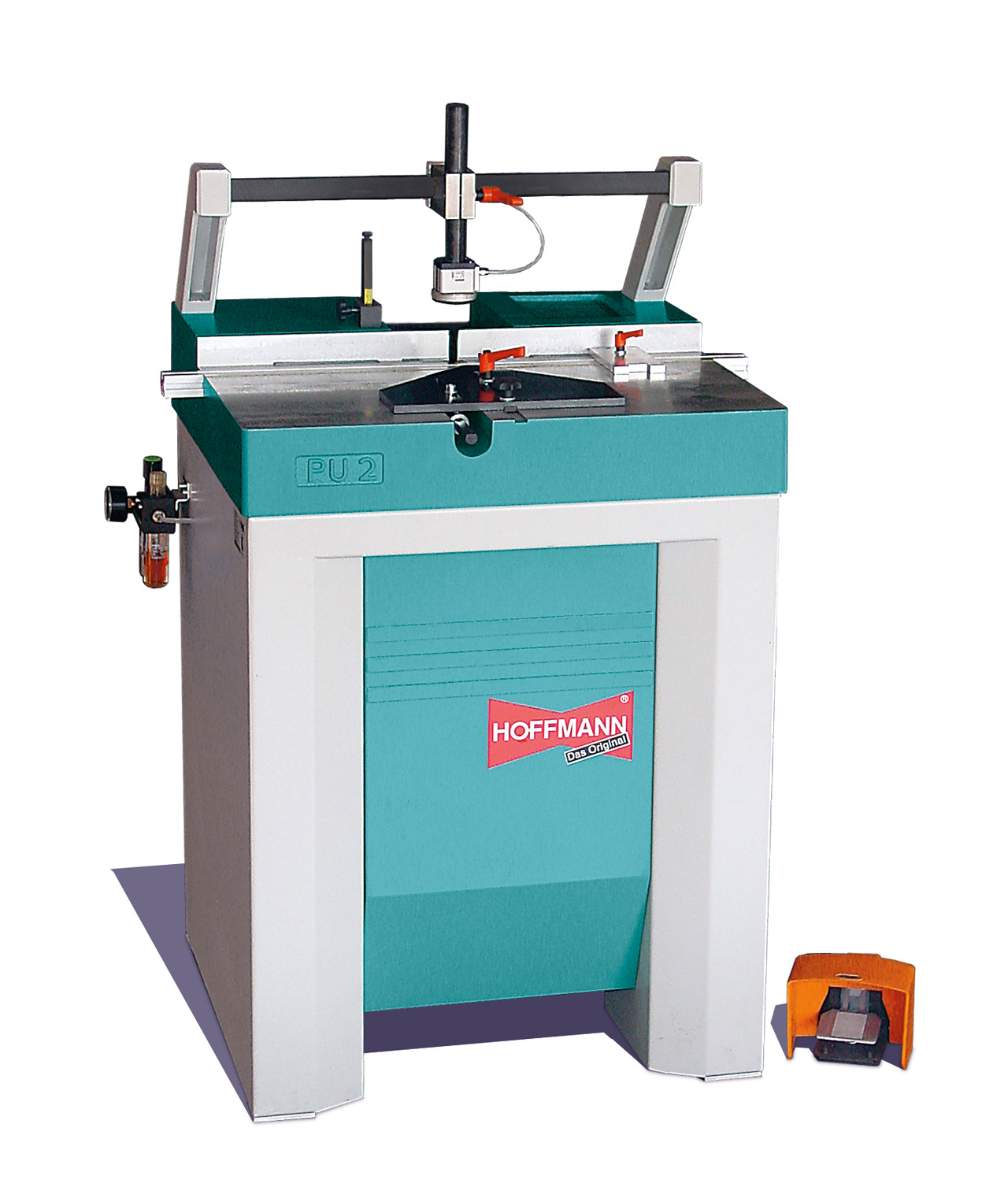 Hoffmann PU2-HF pneumatic dovetail routing machine
Highlights:
Large work surface is designed to be at a comfortable working height, the router motor is controlled by a contactor and a 4" dust collection port is located at the back for connection to a central dust collection system.
Operation:
The keyway location is adjusted by positioning the guided center fence plate on the machine table; the keyway length (routing height) is adjusted by setting a height-stop rod to the desired setting.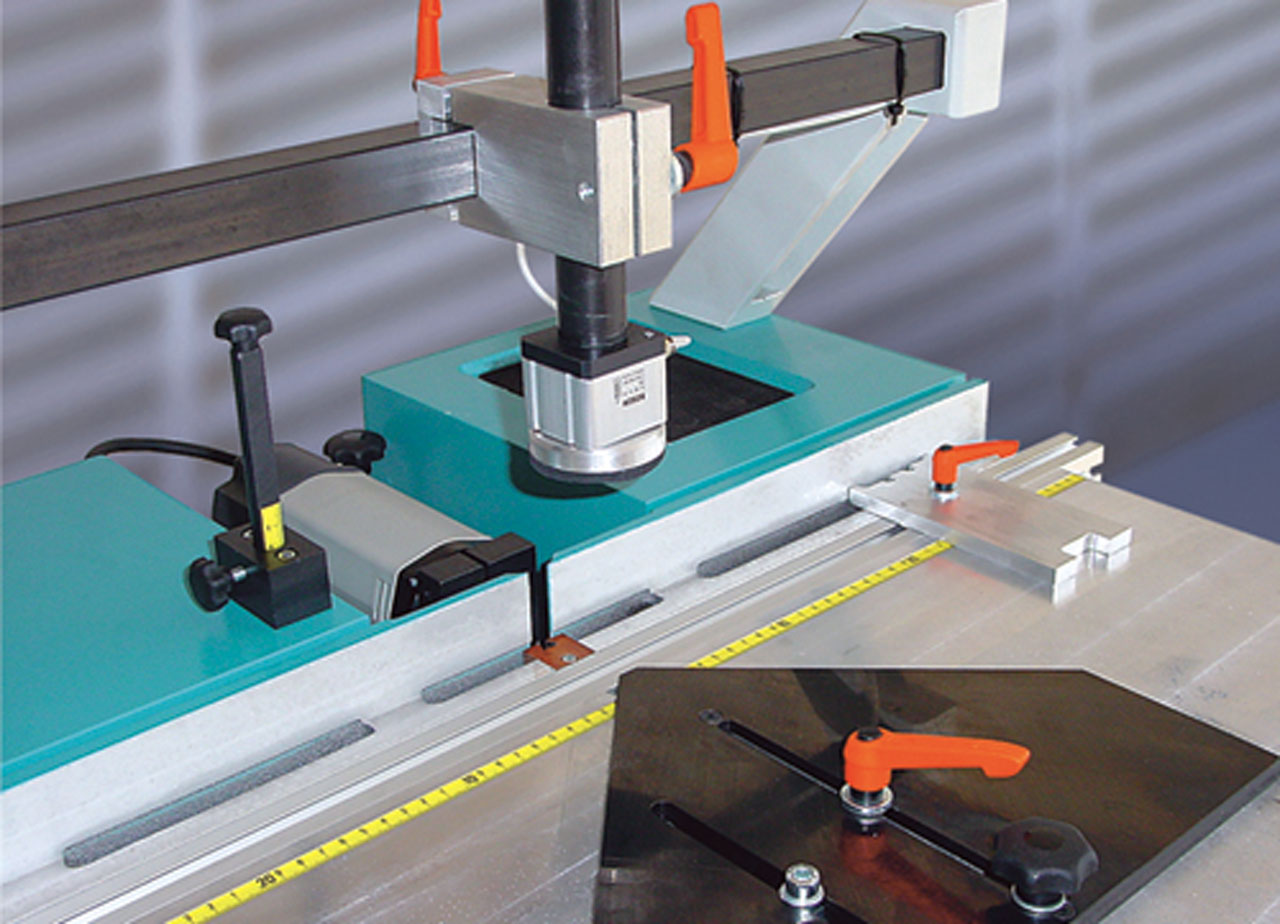 Routing height adjustment road with scale (standard PU2 model shown)

Pressing the pneumatic foot pedal starts the machining cycle:
> Pneumatic clamp secures work-piece and motor is switched on
> Router head advances until pre-set height is reached
> Router head returns to home position and motor is switched off
> Pneumatic clamp releases work-piece
Output is approx. 16 routing strokes per minute, which translates into 2 completely processed rectangular frames. These numbers include material handling, but obviously depend on routing depth, feed speed, material flow and operator performance as well. Flow control valves on the main pneumatic cylinder allow the operator to adjust the upward and downward feed rate independently, depending on the material being processed. A 4" diameter dust collection port in the back is used to connect a central dust collection system.

The supplied router bit is solid tungsten carbide, made to exacting specifications. Depending on the routing depth and the material to be routed, the useable cutter life is approx. 10,000 strokes, often times even more. Every machine is shipped with a tool kit and set-up jig, which allows a router bit change in only minutes.
Standard Features:
Hoffmann Dovetail Routing Machine PU2-HF, freestanding floor model, with High-Frequency Router Motor and matching inverter installed, ready for operation, with lockable Emergency-Stop, with air regulator-lubricator assembly, with W-2 solid carbide router bit installed, standard 45 degree center fence plate and square stop, toolkit and manual.
Technical data
Power Supply 230 volts – 3 phase
Air Supply 90 psi - approx. 0.1 cubic foot/cycle
Motor 750 Watt HF motor with double front bearing
Motor speed 18,000 rpm at idle
Collet size 1/4"
Motor carriage guides 16mm diameter guide rods, precision ground
Operation pneumatic – dual cylinder design
Max. routing height 4" – 101mm
Max. material height 5 3/4" – 146mm
Installed router bit W-2, solid carbide
Available router bits W-0, W-1, W-2, W-3 and W-4
Dimensions W/D/H 31 1/2" x 29 1/2" x 59"
Weight 262lbs.
Warranty:
One year on parts and workmanship. Complete Hoffmann Warranty Terms apply.
Custom Field
Note:
Please contact us for an estimate on freight charges and to place an order for a P-series machine.
Product Reviews