Product Description
The Hoffmann Dovetail Joining System is used in woodworking, furniture manufacturing, window and door production, architectural millwork designs, store fixtures, custom and production picture framing shops, pre-fab housing and much more, in shops and plants around the globe.
To best suit an ever expanding range of joining application, a total of five different Hoffmann Dovetail Keys and corresponding Dovetail Router Bit sizes are offered, designated as W-0, W-1, W-2, W-3 and W-4.
The "W" designations refer to the cross-sections of the Keys (the size of the "bowtie"), and Keys in each size are available in a variety of different lengths.
The cross-section dimensions of W-3 Hoffmann Dovetail Keys are approx. 1/2" wide and 3/8" tall (13mm by 9.5mm).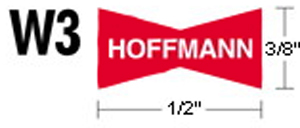 White plastic W-3 Dovetail Keys are available in lengths from 1/2" up to 2" (12.7mm – 50mm) – see chart below.
The W-3 Dovetail Keys are larger in both width and height compared to W-2 Keys, and are therefore exerting more clamping pressure and holding strength in all types of miter and butt joints.
Typical applications for our white Dovetail Keys include synthetic and wooden plantation shutter frames, prefinished products, PVC or composite exterior building trim, window and door casing, etc.
| | | |
| --- | --- | --- |
| Part # | Length (inches) | Length (mm) |
| W9301200-22 | 1/2" | 12.7mm |
| W9301500-22 | 5/8" | 15.8mm |
| W9301700-22 | 11/16" | 17.5mm |
| W9301900-22 | 3/4" | 19.0mm |
| W9302500-22 | 1" | 25.4mm |
| W9303100-22 | 1 1/4" | 31.7mm |
| W9303800-22 | 1 1/2" | 38.1mm |
| W9304600-22 | 1 13/16" | 46.0mm |
| W9305200-22 | 2" | 52.0mm |
Product Videos
Custom Field
Product Reviews