Product Description
Ti-Al-N (Titanium – Aluminum – Nitride) coating offers superior performance, tool life and edge sharpness when routing keyways into solid wood as well as wood-related sheet goods (MDF, plywood, particleboard, etc.) Using a PVD (physical vapor deposition) process, tungsten carbide dovetail bits are coated with Ti-Al-N under vacuum at about 800 degrees Celsius. The coating forms a metallurgical bond to the substrate which will not flake, blister, chip or peel. In fact, the coating is actually implanted slightly into the surface layer of the carbide steel. The color is of the Ti-Al-N coating is dependent upon the Titanium-to-Aluminum ratio and is typically in the dark bronze to black range. Standard Hoffmann carbide router bits feature an already impressive edge hardness of HV30 = 1570, the Ti-Al-N coated bits are more than twice as hard with a hardness of HV30 = 3300. Average tooling life for Hoffmann carbide bits is approx. 10,000 cuts and often more, the average life for Ti-Al-N coated bits is between 30,000 – 50,000 cuts and more (varies depending on type of material, length of dovetail slot and router feed rate).
Tipped with high-quality, industrial tungsten carbide for clean cuts and long tool life.
The bits are made in Germany to exacting specifications and subject to rigorous inspections during manufacturing. We guarantee our bits to produce perfectly sized dovetail slots for the corresponding Dovetail Keys.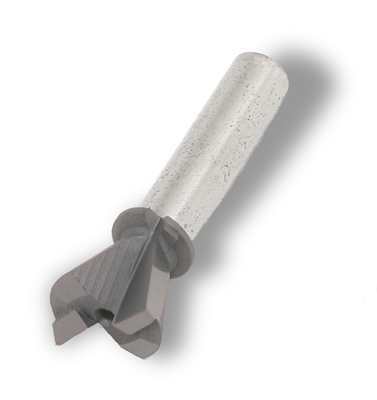 Chip Breakers:
Standard square chip breaker is not included with these bits - these bits will not fit MS and MX-series double miter saws.
W-4 router bits fit can be used only with PU-2 and PP-2 production routing machines and bench-top models with upgraded motors.These router bits have 8.00mm shanks and require the use of 8.00mm collets (part number W3900037).
Product Videos
Custom Field
Please note shank size
This bit has an 8mm shank and requires a matching 8mm collet.
Product Reviews