Product Description
These original MORSO side knives are made to fit both the manual NF-series (NFL and NFXL) and the automatic NEH-series (NLEH and NXLEH) MORSO notching machines.
All MORSO notching machines from Hoffmann are shipped with one set of side knives, installed and ready for operation.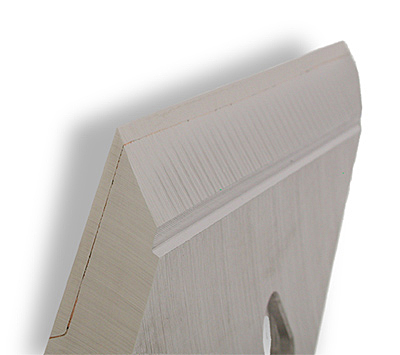 Like the nose knives, the side knives are made from the highest quality Austrian Steel, precision machined and hardened to Rockwell 64.The same hollow ground and hand-honed edge gives smooth cuts in hard and softwood, even MDF.
The knives have two mounting slots to allow for lateral adjustment, depending on the width of the nose knife being used.
When changing knives, the nose knife is first installed on the cutting head and then the side knives are moved forward into position and locked in place with two 5/8" machine bolts.
Always return dull MORSO knives to Hoffmann Machine Company Inc. for grinding and honing to factory specifications. We have a MORSO grinding machine in our shop here in Valdese, NC to get your knives back to like-new condition.
Product Videos
Custom Field
Product Reviews