Product Description
Hoffmann X-20 Machine Overview:
Entry level, manually operated dovetail routing machine to rout a single dovetail keyway with each machining cycle.
For Dovetail Key sizes W-0, W-1, W-2 and W-3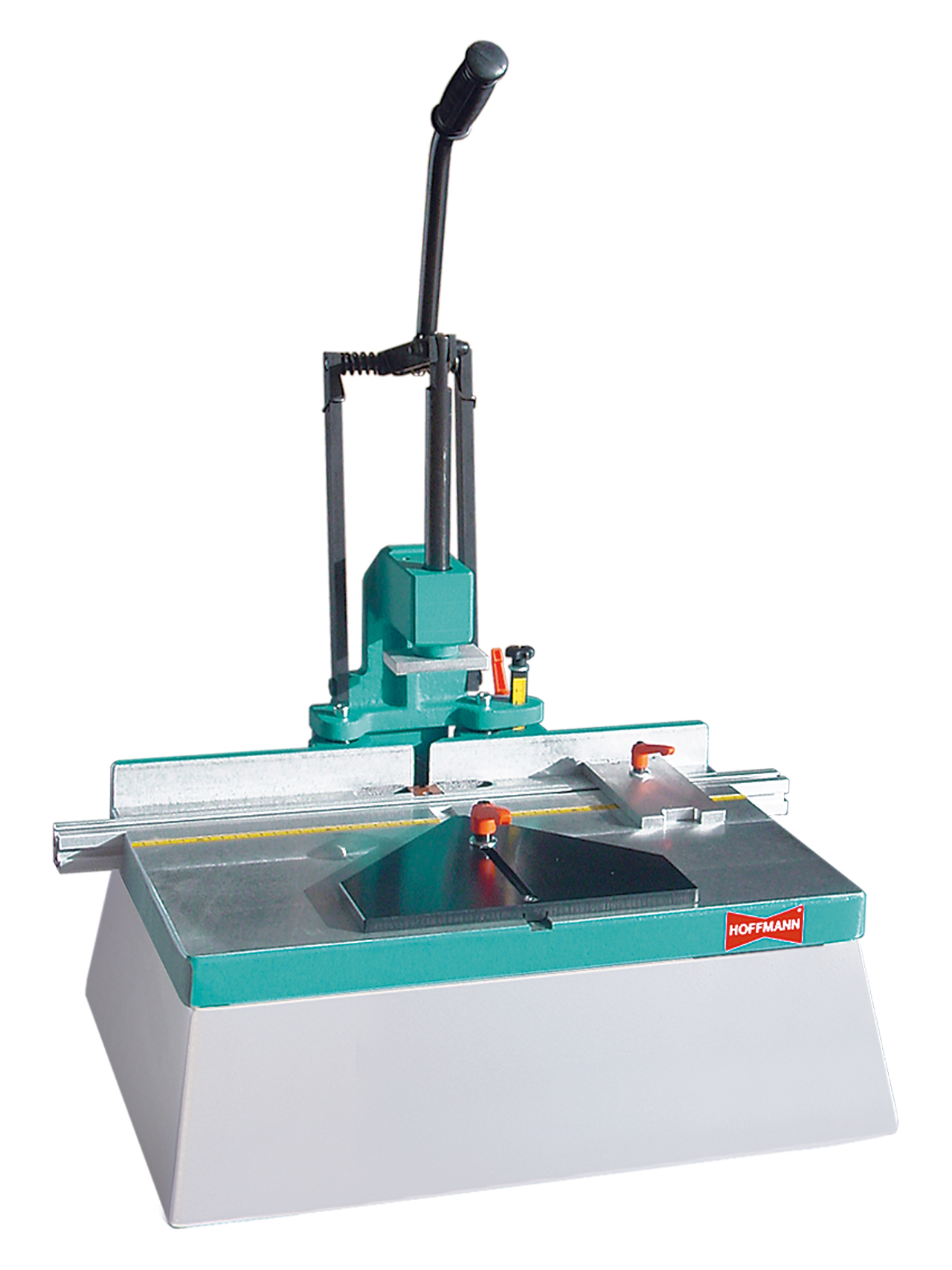 Hoffmann X20 manual dovetail routing machine
Highlights:
The X20 manual dovetail routing machine is a light weight, more portable model with an open base design. This machine does not require a compressed air supply.
This machine is slightly larger than the X18 model, with increased routing height and a table-top mounted on three sided enclosed base.
Operation:
The keyway location is adjusted by positioning the guided center fence plate on the machine table; the keyway length (routing height) is adjusted by setting a height-stop rod to the desired setting.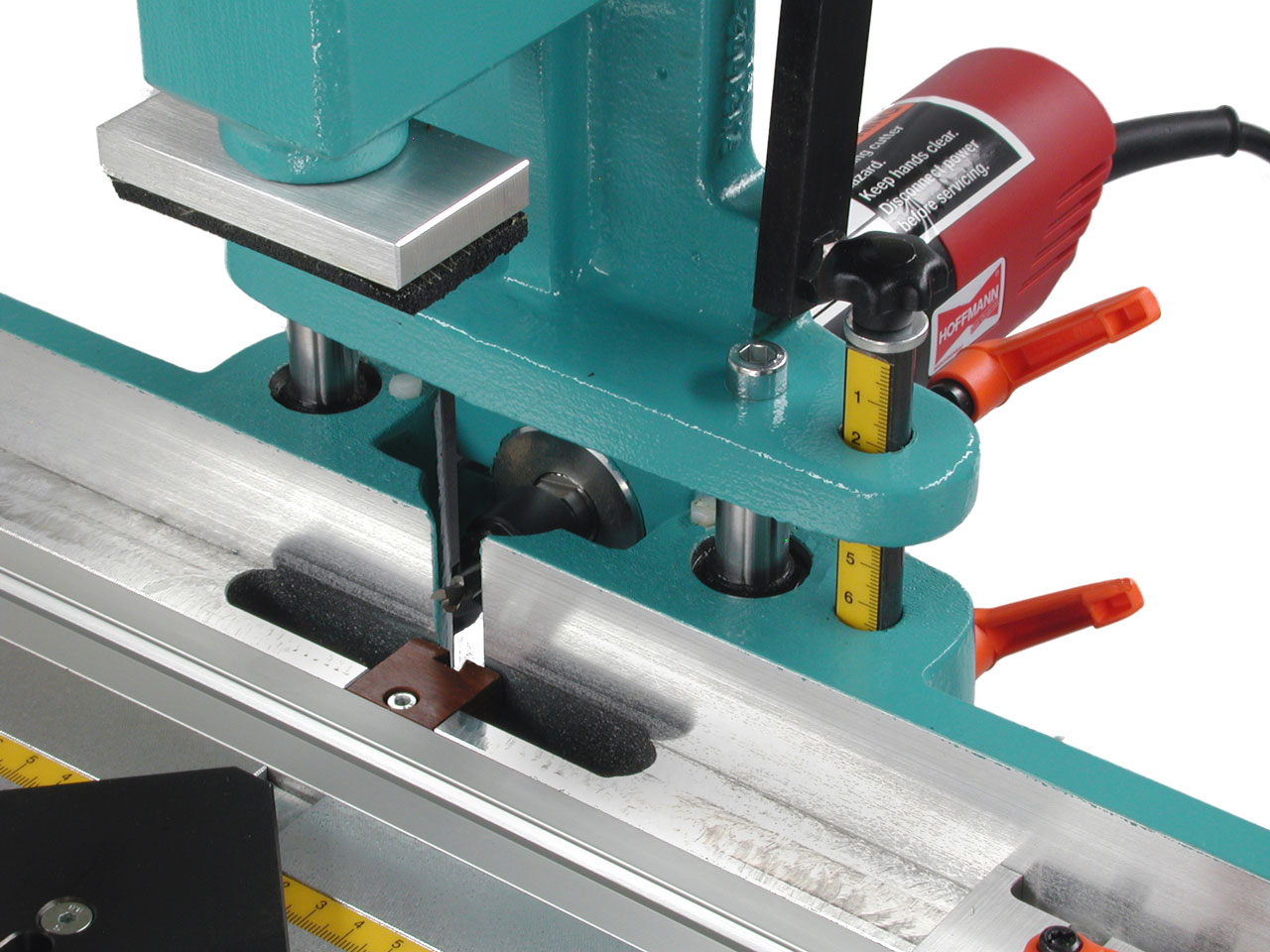 Routing height adjustment road with scale
Pulling the main lever downward starts the machining cycle:
> Padded hold-down plate secures work-piece and motor is switched on
> Continued pulling advances the router head until pre-set height is reached
> Releasing the lever returns the motor to its home position and shuts off motor
> Padded hold-down plate releases work-piece
Routing parts for a miter joint
With the operator controlling the speed of all machine movements, output is greatly depended on material flow, handling and operator performance.
The supplied router bit is solid tungsten carbide, made to exacting specifications. Depending on the routing depth and the material to be routed, the useable cutter life is approx. 10,000 strokes, often times even more. Every machine is shipped with a tool kit and set-up jig, which allows a router bit change in only minutes.
Standard Features:
Hoffmann Dovetail Routing Machine, model X20, ready for operation, W-2 solid carbide router bit installed, standard 45 degree center fence plate and square stop, toolkit and manual.
Technical data
Power Supply 120 volts – 4.4 Amps
Motor 530 Watt motor
Motor speed 29,000 rpm at idle
Collet size 1/4"
Motor carriage guides 16mm diameter guide rods, precision ground
Operation manual– dual action design
Max. height routing 3" – 76mm / moulding 4" – 101mm
Installed router bit W-2, solid carbide
Available router bits W-0, W-1, W-2 and W-3
Dimensions W/D/H 23 5/8" x 21 1/4" x 30 1/4"
Weight 42 lbs.
Warranty:
One year on parts and workmanship. Complete Hoffmann Warranty Terms apply.
Click on images to download operating manual and related catalog
Custom Field
Shipments via truck ONLY!
X-20 machines can only be shipped by Common Carrier due to their size and weight. If USPS or UPS service is selected at check-out your order will still be shipped via Common Carrier. Next day or second service levels are not available.
Flat-Rate Shipping
$195.00 flat-rate shipping is valid for X-20 shipments within contiguous US (lower 48 states) only!
Hawaii, Alaska and International Orders
Please email us at info@Hoffmann-USA.com for machine shipments to HI, AK or international destinations. We gladly ship worldwide but these shipments require special freight procedures which cannot be processed by our website at this time.
Product Reviews