Product Description
Overview
Hoffmann PP2-NC is a versatile, numerically controlled routing and drilling machine for the production of frame and sash joints in windows and doors, overhead glazing systems, curtain walls, sunrooms, conservatories as well as handrails, custom trim moulding and other larger dimension stock. Dovetail keyways are routed and dowel holes are drilled in one machining cycle.
Keyways can be routed from left to right, right to left, bottom to top and top to bottom or any combination thereof. Dowel hole locations are programmable across a wide range of parameters.
Miter joints from 0 – 67.5 degrees as well as 90 degree square joints can be processed with ease – custom fence plates and fixtures are available per customers' requirements.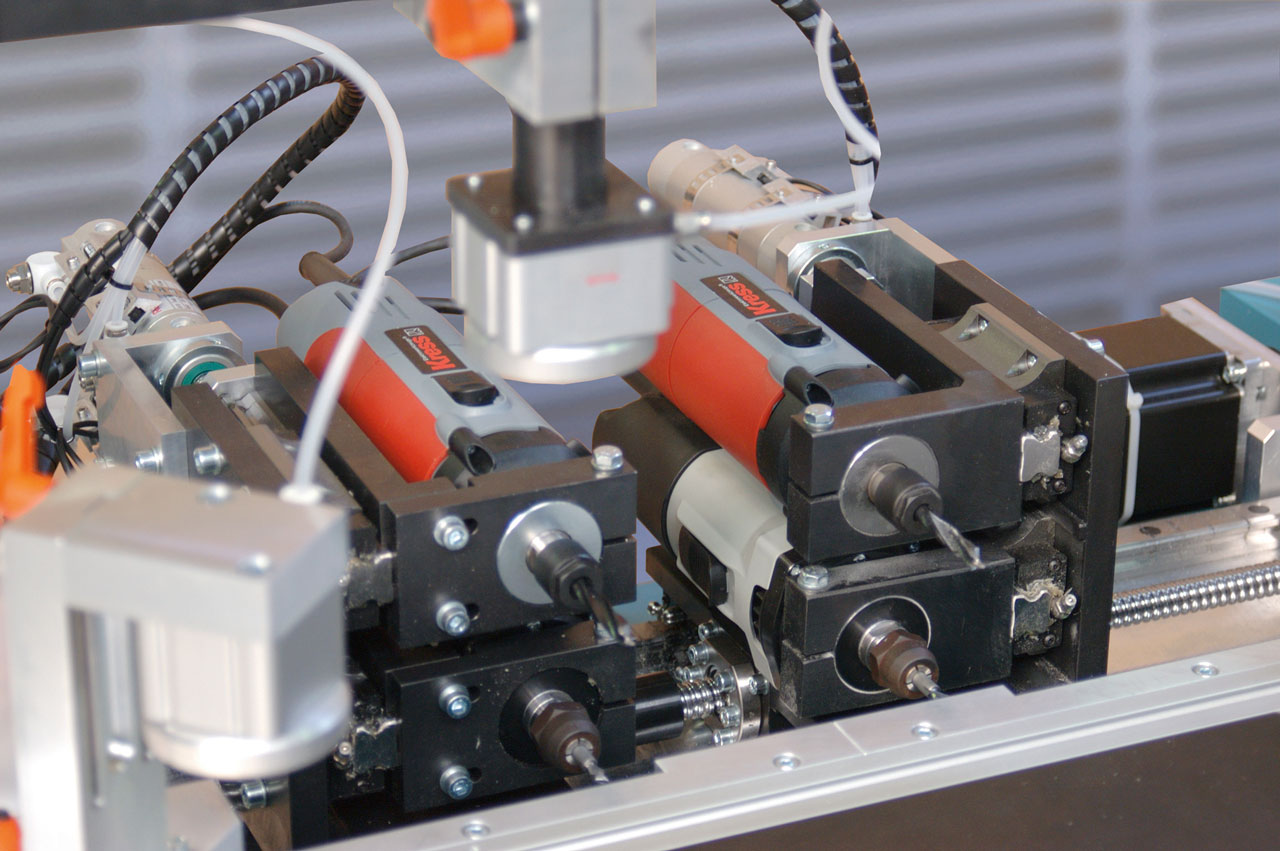 Quality Construction with hardened ball and screw drive and NC stepper motor
The motors brackets are mounted on a precision ball-and-screw spindle for fast and accurate lateral positioning via servo motor. The routing height (upward travel of router motors) is also electronically controlled to within 0.5mm.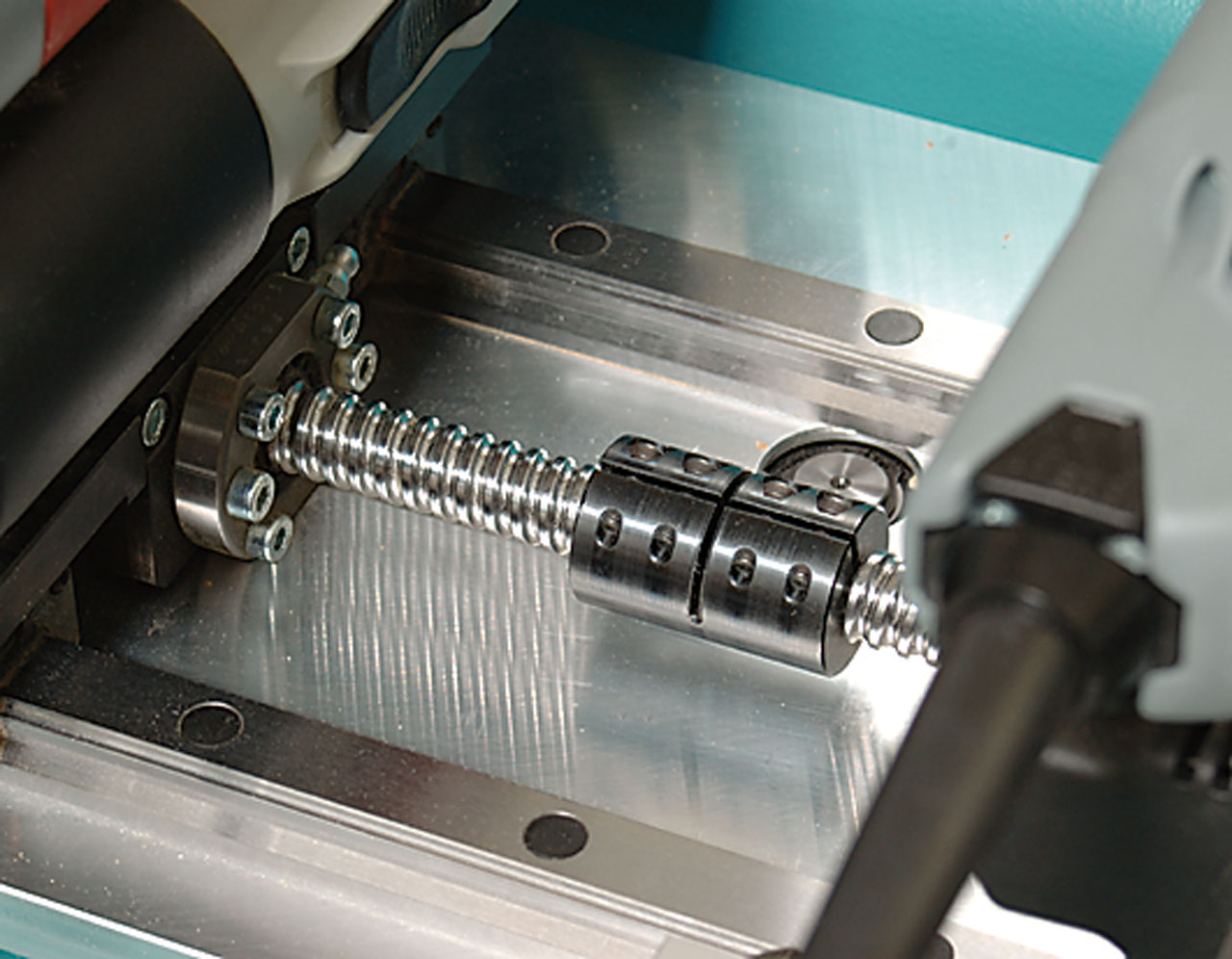 Fully programmable for wide range of profile dimensions
All relevant data is entered either directly on a color touch-screen or downloaded via USB port. Up to 100 different routing and drilling programs can be saved for quick retrieval.
Two workpieces are placed on the machine table and processed simultaneously for dovetail keyways and/or dowel holes.

One machine - many applications
Hoffmann PP2-NC is the ideal dovetail routing and dowel drilling machine for operations that use a number of different moulding sizes frequently. Typical customers include picture frame and mirror frame operations, millwork and cabinet shops, moulding suppliers, plantation shutter manufacturers and architectural millwork shops.
Increased productivity and quality from perfectly aligned dovetail keyways
Being able to program dovetail keyway and dowel hole locations and and storing the data with a customer defined file name, e.g "Shutter Z-frame, large" or "Nantucket Mirror Frame" allows for quick and reliable recall and assures every pieces of moulding has Hoffmann Keyways and dowel holes placed in exactly the same locations. this assures perfectly aligned and tight miters every time.
PP2-NC: Vertical Dovetail Keyway routing and dowel hole drilling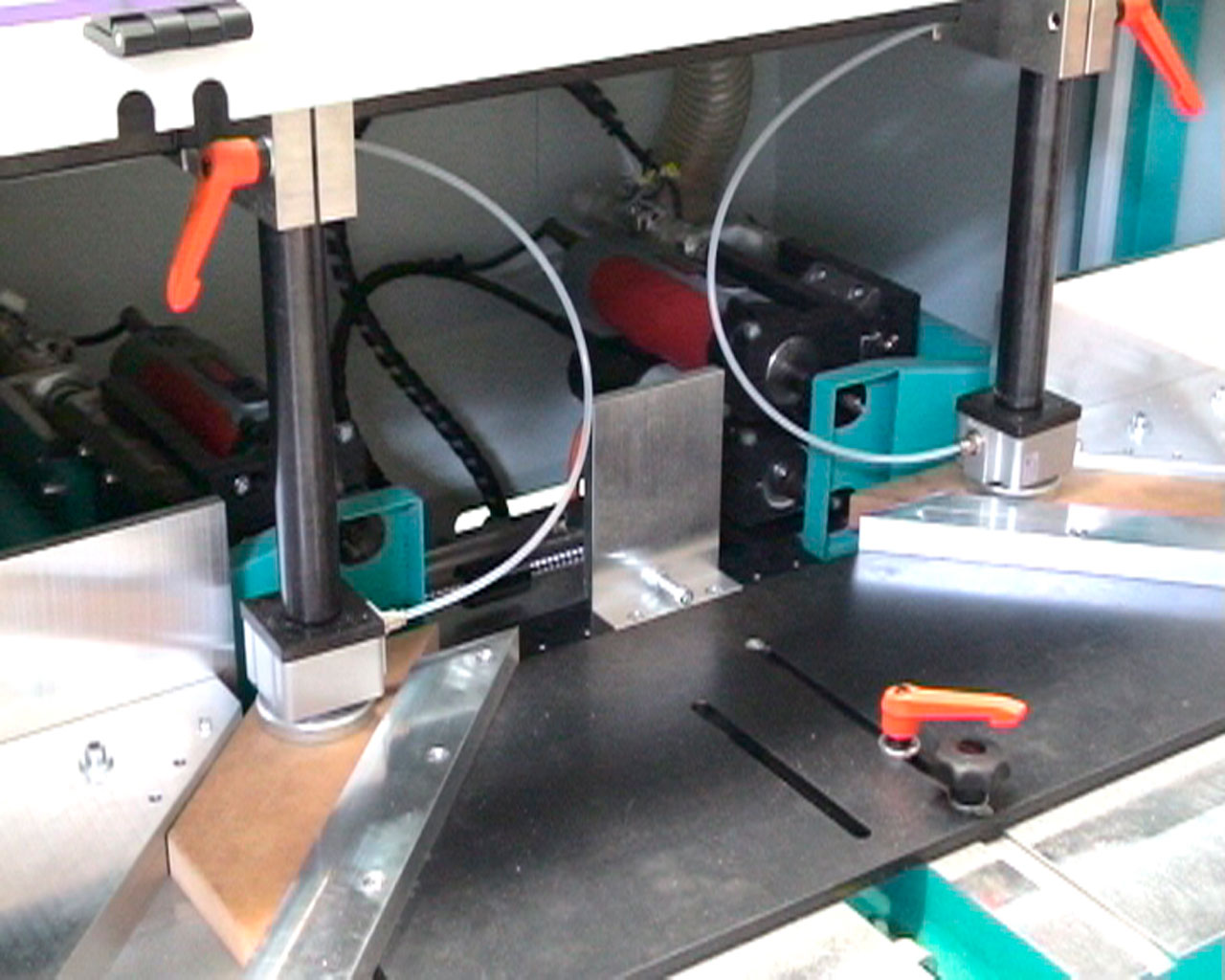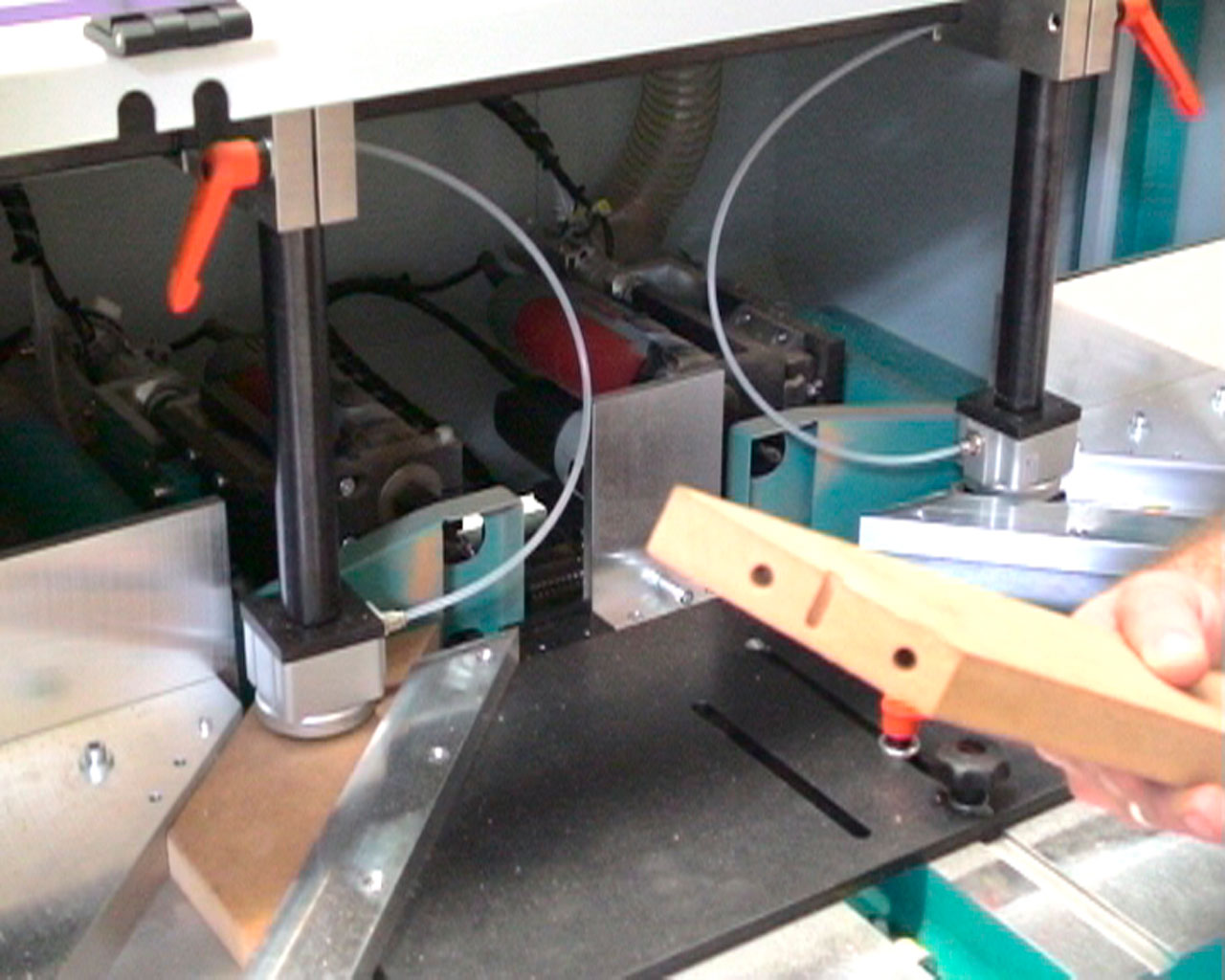 PP2-NC: Horizontal Dovetail Keyway routing and dowel hole drilling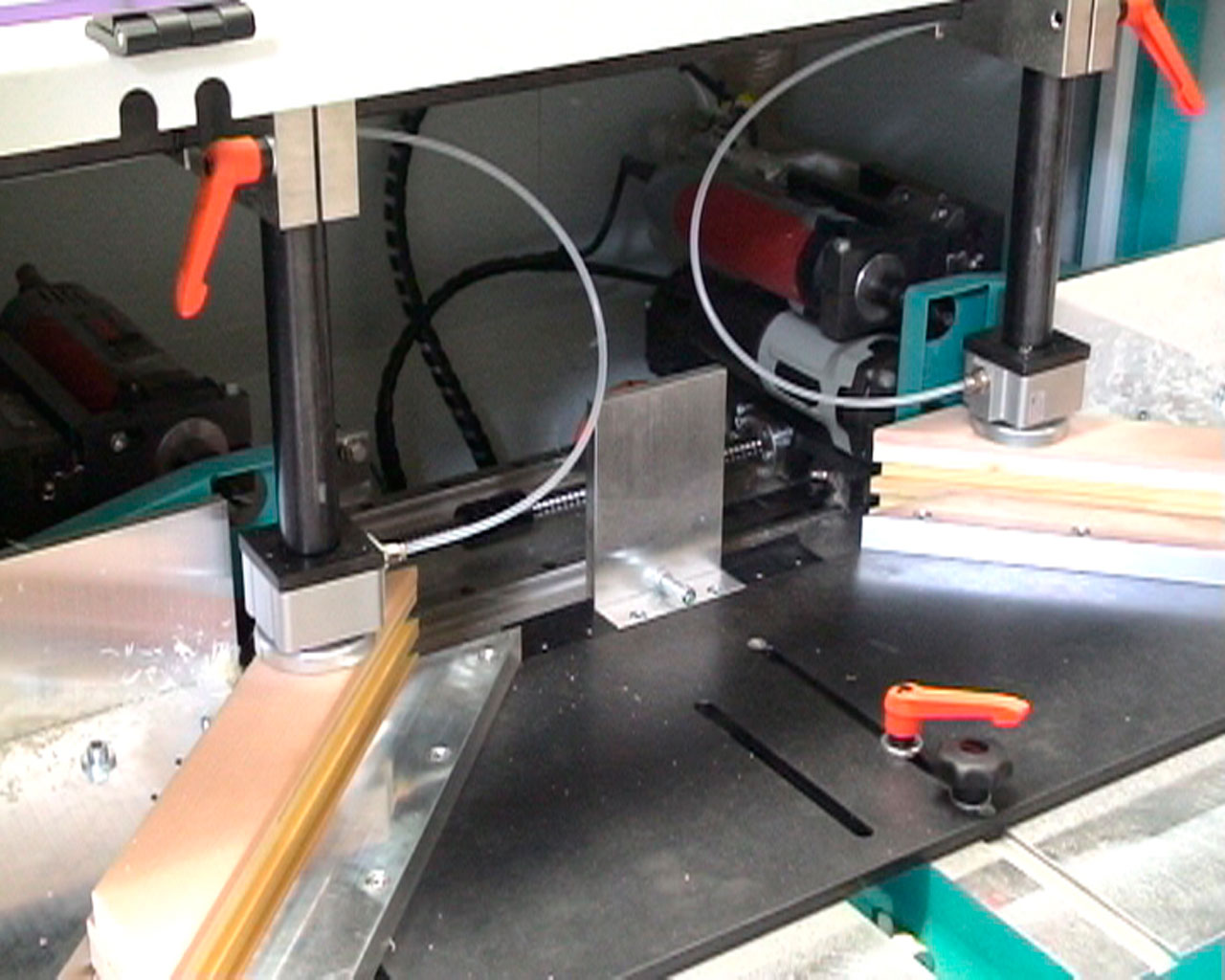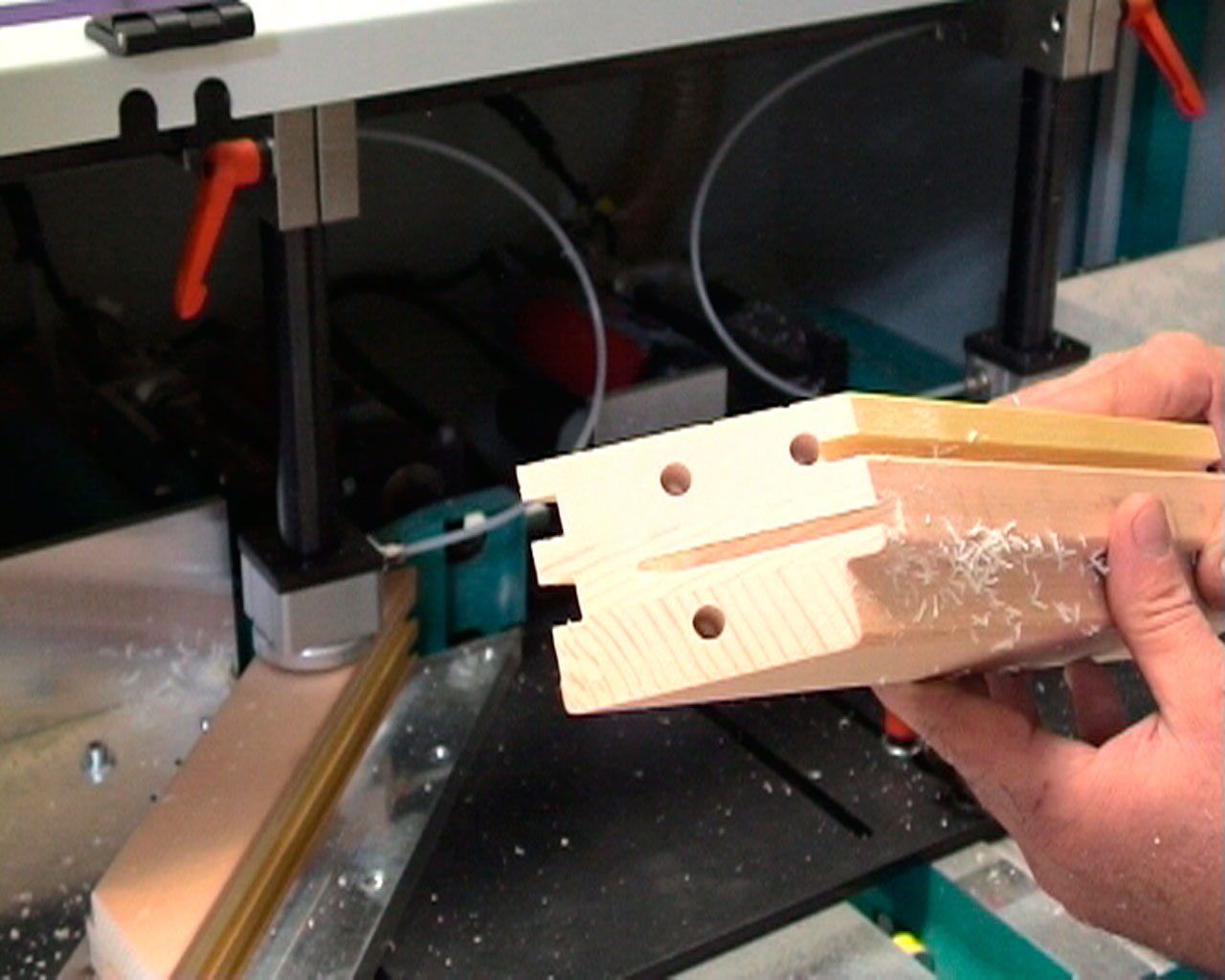 Plantation Shutter Manufacturing
For Plantation Shutter Operations we offer optional support blocks for various Z-Frame Moulding. These precision-machined aluminum support blocks are manufactured to customers' specifications to match their profiles perfectly We also offer additional horizontal hold-down clamps to secure difficult to machine profiles.
Very large Z-Frame Profiles may benefit from a dowel pin in addition to Hoffmann Dovetail Keys for even greater joint strength and alignment.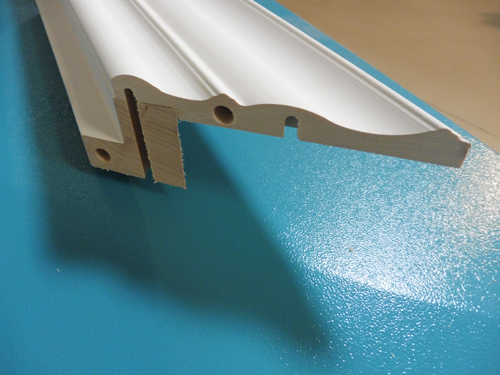 Optional horizontal material clamps for shutter profiles
When processing shutter frame material, especially larger Z-Frame stock, we recommend the addition of left and right hand side horizontal material clamps for best results. The clamps are connected to main pneumatic circuit and controlled with the foot switch.
Additionally, a selector field CLAMP INDIVIDUALLY on the touch screen allows the operator to only activate the vertical and horizontal clamp one side at a time - this is helpful when working with shutter stock longer than approx. 3 feet.
Double Routing Option for PVC profiles
PVC shutter profiles tend to vary in composition and density from manufacturer to manufacturer and some material requires each keyway to be routed twice for best results. The first pass cuts the dovetail keyway and the fast, second pass cleans out any remaining PVC chips to easier insertion of Dovetail Keys during assembly. Since not every material requires double routing, we have added a selector field on the touch screen.
Adjustable vertical material clamps
Hoffmann PP2-NCF features large work surface which is designed to be at a comfortable working height, the router motors are controlled by a contactor and a 4" dust collection port is located at the back for connection to a central dust collection system.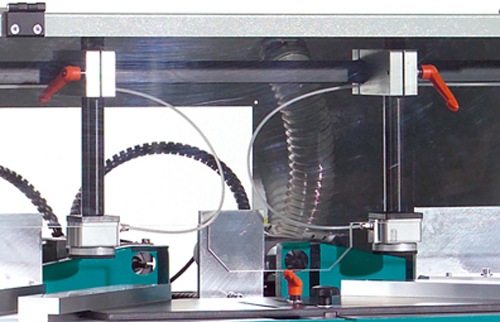 Operation:
The machine is equipped with a foot switch to activate the material clamps.
Upon depressing of the switch, the following sequence is initiated by pressing a START button on the control panel:
motors are switched on and router heads advance up until the pre-set height position is reached, then return below table

router heads move to second or third location and repeat routing sequence

drilling heads move in to drill dowel holes into programmed locations

motors return and shut off

pneumatic clamps release workpieces
Output is approx. 16 routing strokes per minute, which translates into 4 completely processed rectangular frames. These numbers include material handling, but obviously depend on overall frame size, routing depth, feed speed, material flow and operator performance as well. Flow control valves on the main pneumatic cylinder allow the operator to adjust the upward and downward feed rate independently, depending on the material being processed. A 4" diameter dust collection port in the back is used to connect a central dust collection system.

Industrial tungsten carbide router bits for long service life
The supplied router bit is solid tungsten carbide, made to exacting specifications. Depending on the routing depth and the material to be routed, the useable cutter life is approx. 10,000 strokes, often times even more. Every machine is shipped with a tool kit and set-up jig, which allows a router bit change in only minutes.

PP2-NCF Standard Features:
Hoffmann PP2-NCF Dovetail Routing Machine, with color touch screen on adjustable support arm, with HOFFMANN software package installed, ready for operation, with two W-2 carbide router bits, with standard 45 degree fence plate and square stop, with air filter-regulator unit installed, including toolkit and manual
Hoffmann PP2-NCF Technical Data .
| | |
| --- | --- |
| Power supply | 220 volts, 18 A., 3 ph |
| Motor size | 2 x 1,000 watt |
| Motor speed | 33,000 rpm |
| Compressed Air Supply | 90 psi |
| Router Collet Size | 1/4" |
| Max. material width | 5" |
| Max. material height | 5" |
| Max. routing height | 4" |
| Number of Keyway locations | up to 3 per miter |
| Number of different Keyway lengths | up to 3 per miter |
| Supplied router bits | W-2 solid carbide |
| Available router bits | W-1, W-2, W-3 |
| Dust collection port | 4" diameter |
| Approx. net weight | 528 lbs. |
Warranty:
One year on parts and workmanship. Complete Hoffmann Warranty Terms apply.
Custom Field
Note:
Please contact us for an estimate on freight charges and to place an order for a P-series machine.
Product Reviews