Product Description
Description:
The Hoffmann MX-1 Double End Miter Saw is equipped with two sawing stations, mounted on a heavy-duty, welded steel frame. Sealed linear bearings and precision ground guide rails assure long-term reliability and accuracy.
Left hand station is fixed, right hand station is manually (or automatically) moved to adjust cutting length.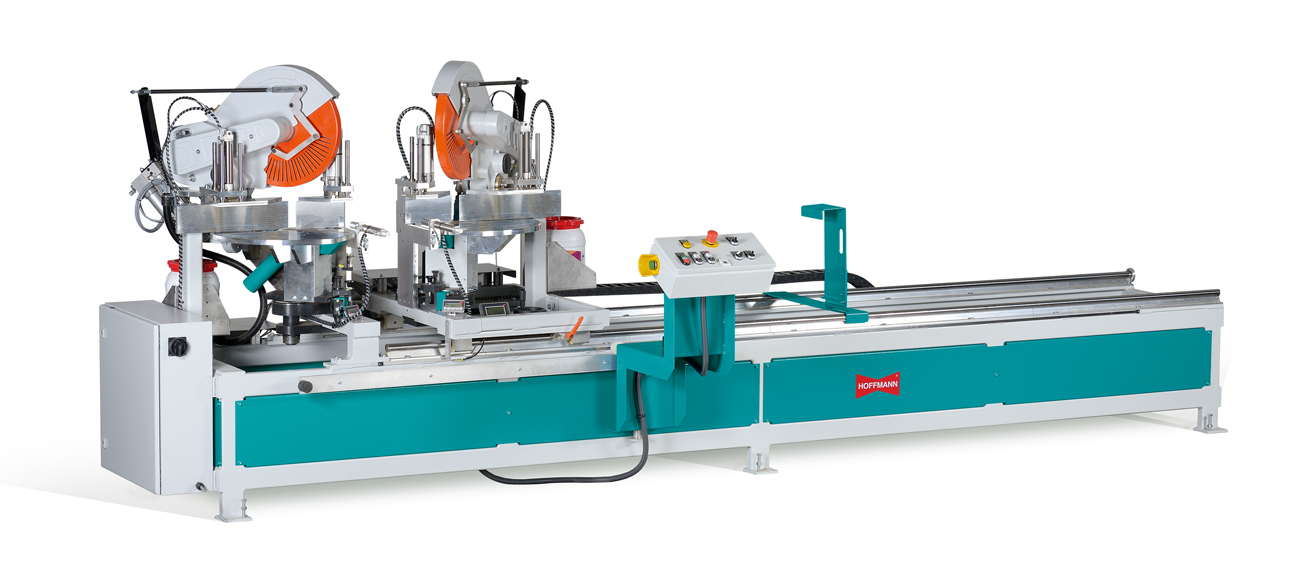 Cutting angles are manually and independent of each other adjusted on each side with pre-set stops and digital displays for intermediate angles.
Saw heads are manufactured by Hoffmann-Germany to close tolerances and are designed for production-duty use. Standard saw blades are 400mm diameter, carbide tipped.
Replaceable table inserts eliminate chipping on underside of work-piece.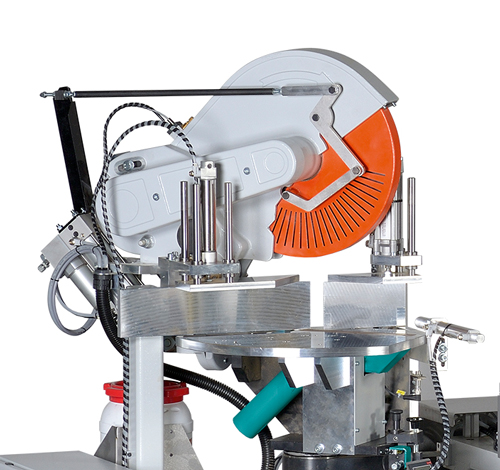 Hoffmann MX-1 double-end miter saw -- left hand saw station
Pneumatic vertical material clamps are adjustable to suit different work-piece dimensions.
Custom material support blocks, center stands, additional horizontal and vertical clamps and other options are available and provided as needed to meet customer's requirements.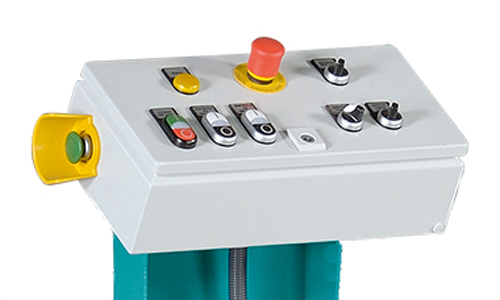 Hoffmann MX-1 double-end miter saw -- operator console with two-hand safety controls

Applications:
Solid wood, MDF as well as plastics and composite profiles can be processed with speed and accuracy.
Typical applications include window and door components made of wood, PVA or aluminum, decorative trim and casing profiles, architectural millwork, shutter frames, store fixtures, shelves, wood components for the furniture industry, plastics and aluminum parts for the RV industry, etc.
Aluminum profiles can be processed with an optional misting coolant system.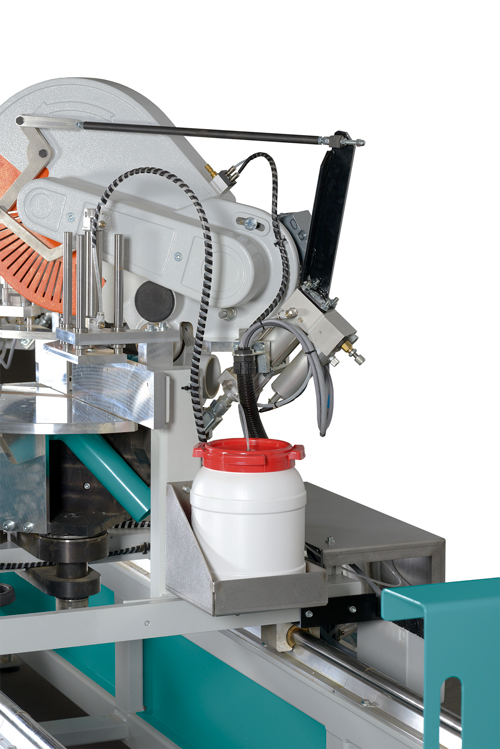 Hoffmann MX-1 double-end miter saw -- optional coolant misting system for cutting aluminum

Machining sequence:
Operator sets cutting length and cutting angles manually, then places workpiece on material supports
Operator activates two-hand safety controls – pneumatic clamps secure material on table.
Saw blades cut through material and retract up to their home position.
Pneumatic clamps release the material and operator removes finished part.
Options:
Hoffmann MX-series double-end miter saws are built to order we work closely with our clients to determine which modifications or options are required to meet customer's production needs.
Available options include:
Safety floor mats and safety fence system

Automatic length adjustment with NC-Axis and operator touch screen

Pneumatic 2-position cutting angle adjustment for 0

°

and 45

°

, intermediate angles set manually

Automatic cutting angle adjustment with NC-axis for every angle between 0 – 45 via touch screen input

Misting cooling system for aluminum processing, with no-residue, quick evaporating coolant.

Retracting infeed support table and automatically extending center support arm.

Longer cutting lengths and/or larger cutting capacities

Other models available with integrated dovetail keyway routing operations (Hoffmann MX-2), with integrated dowel drilling operations (Hoffmann MX-3) or with integrated dowel drilling and dovetail routing operations (Hoffmann MX-5)
Hoffmann MX-1 double-end miter saw technical specifications:
Power 230 Volts, 3 P, 7KW
Air Supply 90 psi – 3 cfm
Saw heads 2 x 2 1/2 HP, 3,470 rpm
Saw blades 400mm diameter, carbide tipped
Cutting capacity

7.25" width x 4.5" thickness at 90 degree cutting angle
5" width x 4.5" thickness at 45 degree cutting angle
Cutting angle preset stops at 0° – 22.5° – 30° - 45°, intermediate angles set with manual clamp
Minimum length 22" (555mm) both heads simultaneously, 6" with short-cut fixture and sequential cutting
Maximum length 118", longer lengths optional
Operation two-hand safety controls
Controls electronic operation with PLC
Dust collection 2 x ports, 80mm diameter
Standard Equipment:
Hoffmann MX-1 double end miter saw, ready for operation, manual cutting length adjustment with digital display switchable from millimeters to inches, manual cutting angle adjustments left and right with digital displays with 0.1° accuracy, air filter-regulator-lubricator assembly installed, two-hand safety operation, flow control valves for saw blade feed rate, emergency-stop-switch, manual and toolkit.
Product Videos
Custom Field
Lead-Time
MX-series saw are manufactured to order - please contact us for lead-time and to discuss options for your specific application.
Product Reviews